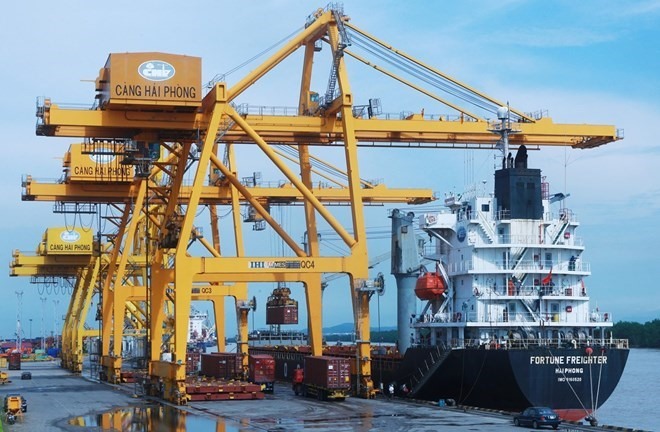 Việt Nam recorded a trade surplus of US$1.5 billion with the United Kingdom in the first four months of 2018. — Photo VNA
Viet Nam News
HÀ NỘI — Việt Nam recorded a trade surplus of US$1.5 billion with the United Kingdom in the first four months of 2018.
The country exported $1.75 billion worth of goods to the market and imported $238 million. 
According to the General Statistics Office, Việt Nam's export revenue to the European country in the first three months of 2018 reached $1.31 billion, up by 30.6 per cent over the same period last year. 
Meanwhile, Việt Nam imported $185 million worth of goods from the United Kingdom, up by 17.6 per cent year-on-year, resulting in a huge trade imbalance. 
From January until the end of April, Việt Nam mainly exported telephones and spare parts, footwear, garments and aquatic products, with the respective export values exceeding $705 million, $201 million, $215 million and $78 million. 
At the same time, Việt Nam imported $67 million worth of machineries, equipment and spare parts, $45 million worth of pharmaceuticals and more than $13 million worth of chemicals. 
During 2013-17, the United Kingdom was among the 15 largest trade partners of Việt Nam, with an average annual growth of nearly 5 per cent. Bilateral trade grew by a total of 44 percent in the reviewed period to $6.15 billion in 2017 from $4.27 billion in 2013. 
Last year, the United Kingdom was the eighth-largest export market of Việt Nam, moving up one place from 2016. Meanwhile, it was Việt Nam's 26th largest import market, down by two places compared to the previous year. 
In the past five years, Việt Nam's exports to the United Kingdom have surged by 46.4 per cent to $5.42 billion, accounting for 2.5 per cent of the country's total export volume. 
In the same period, Southeast Asia's import revenue in the UK market has increased by 30 per cent, reaching $733 million in 2017. 
Việt Nam has continuously enjoyed a huge trade surplus with the United Kingdom, with last year's figure hitting $4.68 billion. 
The United Kingdom is also the third-largest trade partner of Việt Nam among the EU (European Union) countries. — VNS