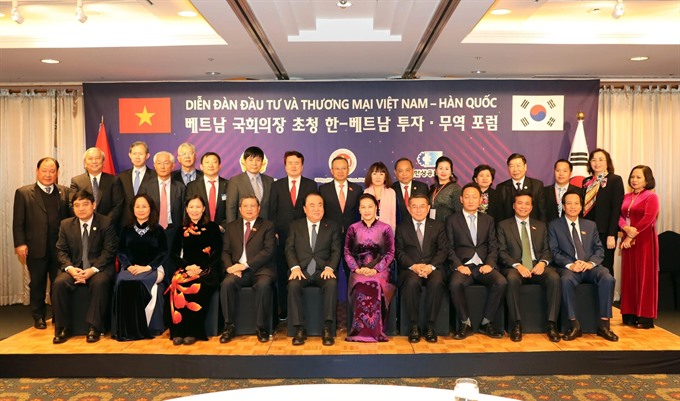 National Assembly Chairwoman Nguyễn Thị Kim Ngân and her Korean counterpart Moon Hee-sang with participants of the Việt Nam – RoK Trade and Investment conference in Seoul on Friday. – VNA/VNS Photo Trọng Đức
Viet Nam News
HÀ NỘI — Việt Nam pledged to develop effective policies and create the most favourable environment for foreign investors, in general, and those from the Repulic of Korea (RoK), in particular, to successfully do business in Việt Nam, National Assembly (NA) Chairwoman Nguyễn Thị Kim Ngân said.
Ngân stressed this while speaking at the Việt Nam – RoK Trade and Investment conference in Seoul on Friday – the final day of the Vietnamese legislator's four-day official visit to the RoK.
The conference, co-organised by the Việt Nam Ministry of Planning and Investment, the Vietnamese Embassy to RoK and the Korea Chamber of Commerce, was also attended by the Speaker of the RoK National Assembly Moon Hee-sang together with hundreds of firms from the two countries.
Ngân urged businesses to bring into play advantages in the co-operation between Việt Nam and the RoK and contribute to deepening the relationship between the two countries.
"Our doors are always open to Korean firms to do business in Việt Nam. Your success is our success," Ngân said.
"Việt Nam is committed to building a business-friendly environment following international standards," Ngân said, adding that the country's ecomic restructuring was focusing on three pillars – public investment, State-owned enterprises (SOEs) and credit institutions -together with three strategic breakthroughs in the development of the market economy, high-quality human resources and infrastructures to create room for private and foreign companies to enhance cooperation for development.
The investment climate in Việt Nam was improving and becoming attractive to foreign investors as the country was now a member of 10 free trade agreements together with the Comprehensive and Progressive Agreement for Trans-Pacific Partnership (CPTPP) and the European Union – Việt Nam FTA that take effect soon, she said.
The country was also striving to enhance national competitiveness in the global value chain and promote links between the private and FDI sectors.
Ngân said Việt Nam was considering policies to attract foreign investment in processing and manufacturing, parts supplies, new materials, agriculture-food processing, IT, energy, infrastructure development, the environment, smart cities, healthcare, high-quality services and the privatisation of SOEs.
Ngân appreciated the RoK government's New Southern Policy aimed at promoting peace and common prosperity.
RoK is now the largest investor in Việt Nam with total registered capital of US$62.2 billion, according to statistics from the Việt Nam Foreign Investment Agency.
With regards to trade, Ngân said that Việt Nam expected the RoK to continue to create conditions for the entry and export expansion of Vietnamese products such as farm produce, garments, wood and electronics products, adding that Việt Nam was willing to import products including electronic components and parts.
This is an effort to boost bilateral trade between Việt Nam and RoK to $100 billion by 2020. A memorandum of understanding on action plan to leverage bilateral trade to $100 billion by 2020 was signed between the Việt Nam Ministry of Industry and Trade and RoK Ministry of Trade, Industry and Energy in Seoul on Thursday.
"Việt Nam and the RoK are significant trade partners with export products rarely conflicting," Ngân said.
Two-way trade reached $64 billion last year.  
Speaker Moon Hee-sang said that he expected both Vietnamese and Korean firms to actively promote economic co-operation to contribute to the prosperous development of the two countries in particular and Asia in general.
He said that RoK would create favourable conditions for the operation of firms from the two countries.
He stressed that Việt Nam was the leading partner of RoK in many sectors, adding that half of Korean firms investing in ASEAN were operating in Việt Nam.
At the conference, Korean firms showed interest in the privatisation of Vietnamese SOEs via mergers and acquisitions, renewable energy, the environment, infrastructure, finance and banking.
After the conference, Ngân received representatives of several Korean economic groups, including CJ, Lotte, VN One and the Korea Federation of SMEs. Ngân said she expected Korean firms to continue to expand their investment in Việt Nam, especially in smart cities, tourism, transport infrastructure development, logistics and education services.
Korean firms said they wished to invest long-term in Việt Nam, and expand production and operations to contribute to the development of Việt Nam.
During the forum, Vietjet also announced that the airline would launch its new international route connecting Phú Quốc island in southern Kiên Giang Province with Seoul later this month. — VNS