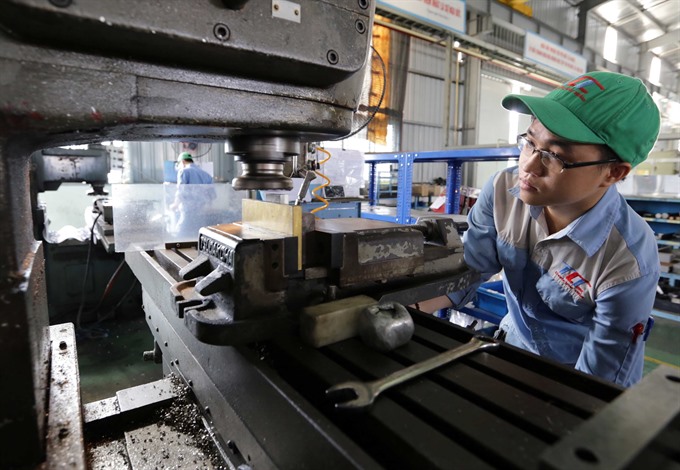 A production line at the Hà Nội-based Trí Cường Industrial Co which designs and manufactures various types of precision parts, factory equipment and custom automation. — VNA/VNS Photo Trần Việt
Viet Nam News
HÀ NỘI — A global financial crisis was unlikely to happen in the next few years but Việt Nam needed to prepare itself for a slowing global economy, former Deputy Prime Minister Vũ Khoan said on Wednesday.
Khoan told a conference on Việt Nam's reform and development there had been no signs of a depression among the world's big economies though they had shown signs of slowing recently.
"After the last global financial crisis in 2008, the world has developed defensive tools against the risks. The world predicted another crisis on a 10-year cycle, but it is unlikely another will happen in 2018," he said.
"In the next 12 years, there will be no certainties that the world won't undergo any crises as what we are encountering now are trade competitiveness and monetary tensions, which could be volatile and unpredictable," Khoan said.
"We hope for the best scenario that there is no trade war because Việt Nam, with other economies, would suffer a lot."
Trade competitiveness, which referred to tensions between China and the US, would go up and down over the next few years and would be shaped depending on each country's security, political and geographical conditions, Khoan added.
Global economies would have to mix between competitiveness and co-operation, between bilateral and multilateral relationships, in order to develop a win-win situation, he said.
Việt Nam, as well as other nations, must be ready for that scenario and minimise its vulnerability by increasing inner strength and making the best use of foreign capital, while working with the international community towards a free-trade world, and adapting to any possible changes, Khoan said.
"It's a must for Việt Nam to transform its economic growth model as technological advancements mean fewer job opportunities for low-cost labour and its natural resources are running out."
Việt Nam should utilise policies to "mitigate short term vulnerabilities through better fiscal policies, deepen reforms to enhance competitiveness on trade and investment policies, build skills by improving access to post-secondary education, and promote inclusion by expanding employment services and broadening access to digital technologies," said Sudhir Shetty, chief economist for the East Asia and Pacific Region of the World Bank.
Global growth was estimated at 3 per cent for 2018 but it would be growing slower by 2020 at a rate of below 3 per cent, Sudhir said.
A similar scenario was also expected for the world's gross domestic product (GDP) growth, and the main reason for the global economic slowdown was due to slower growth of the Chinese economy, Sudhir said.
Potential risks to the global economic growth included "an escalation in global protectionism and heightened financial market turbulence," he added.
Private sector is the key
According to Ousmane Dione, World Bank Country Director for Việt Nam, the private sector was key to driving the Vietnamese economy by increasing productivity and creating more added value.
One solution to empower the local business community was to resolve existing issues in the regulatory system that were preventing companies from reaching their full potential, he said.
Corporate governance quality should get better and foreign capital must be used to improve technological backgrounds and added value for local firms so they could link together and join the global value chain, Ousmane said.
Việt Nam had been trying to achieve a developed private sector that could provide a buffer for the country's economic growth, according to deputy minister of planning and investment, Lê Quang Mạnh.
"A developed private sector is one of the four major drivers for the Vietnamese market economy, along with lean policy apparatus, human resource management and modern infrastructure," Mạnh said.
According to McKinsey senior consultant Rich McClellan, the private sector accounted for 80-90 per cent of GDP in developed economies while the figure was lower in developing economies.
In Việt Nam, the private sector involves the official business sector (those that have a business registration) and the unofficial business sector (households). While the official business sector contributes less than 10 per cent of total GDP, unofficial businesses accounted for one-third of the total GDP, Rich said.
Therefore, it was important for Việt Nam to make the unofficial businesses register, continue reforming State-owned enterprises (SOEs) and improving the business environment for foreign direct investment (FDI) companies, he added.
Innovation needed
To lift the performance of the private sector, innovation was required among local companies to create more added value, raise productivity and modernise production.
Huỳnh Thế Du from Fulbright School of Public Policy and Management said there was a big gap in innovation between Việt Nam and developed parts of the world though the nation had made great achievements.
There was little desire and demand from local companies for innovation that was preventing them from climbing to the next levels and ignoring opportunities to join the global value chain, he said.
Local companies were not generating much added value for the economy, so many businesses and individuals had turned to speculating in assets and neglected production, Du said.
That's why it was essential for the private sector to innovate and develop policies to protect their assets and intellectual rights, Du added.
According to deputy minister of science and technology, Trần Văn Tùng, Vietnamese companies should purchase modern technologies and improve professional skills to raise productivity.
He urged the Government to focus on private companies and support them with scientific research.
"Việt Nam should reform its economic growth model, improve the economy's competitiveness and promote public-private partnership (PPP) programmes to help local businesses absorb modern technologies from overseas suppliers." — VNS
Việt Nam introduces its Economic Framework to World Bank
HÀ NỘI — Prime Minister Nguyễn Xuân Phúc on Wednesday introduced Việt Nam's Economic Framework publication to Ousmane Dione, World Bank Country Director for Việt Nam.
The publication includes regulatory documents from the State and the Party, which has been updated with the latest developments of the world to generally display Việt Nam's short-term and long-term development policies.
According to PM Phúc, the economic framework showed the business community, international organisations, regulators and Vietnamese people a clear message that the State was determined to develop into a transparent, pro-business government to continue the country's reform path and improve the business environment, luring more resources to develop Việt Nam as a prosperous, sustainable and harmonised country.
Việt Nam targets by 2035 to become a high-level middle-income economy with per capital GDP of US$10,000. The Government will focus on modernising the economy, raising the status of the private sector, enhancing the quality of the urbanisation process, assuring sustainable development and responding to climate change. — VNS