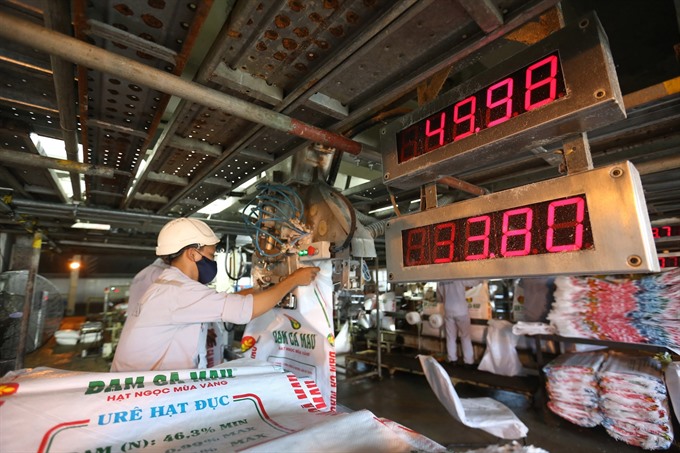 Workers at the Petrovietnam Cà Mau Fertiliser Joint Stock Company operate packaging lines at its plant in the southern province of Cà Mau. — VNA/VNS Photo Huy Hùng
Viet Nam News
HÀ NỘI —  Việt Nam needed a set of specific and measurable criteria for sustainable development, Deputy Prime Minister Vũ Đức Đam said at a council meeting in the capital on Tuesday.
Đam, who is chairman of the National Council on Sustainable Development and Competitiveness Improvement, said Việt Nam had launched numerous programmes and action plans to achieve the criteria for sustainable development set by the United Nations, but did not have specific criteria of its own.
He urged ministries to define specific criteria based on their fields of expertise.
He also asked the Việt Nam National Academy of Social Sciences to study a set of indicators to assess sustainable development according to international trends across all areas.
The Ministry of Industry and Trade and the Ministry of Natural Resources and Environment should focus on clean energy development and climate change, particularly rising sea levels and landslides in the Mekong Delta.
According to Đam, ministries should also look at the issues relating to culture and people, such as the habit of leaving litter and use of plastic bags. Those are part of the many criteria used to assess a country's development level.
Regarding education, Đam said more attention should be paid to teaching moral values as well as knowledge.
The council should focus on the issue and give policy advice to the government, he added.
To take advantage of the Fourth Industrial Revolution, aside from common tasks such as building e-governance and ensuring the activities at all administrative agencies are transparent, the council must choose areas with the potential for development, such as textiles and logistics, according to Đam.
He also gave specific feedback on the organisation and operation of committees under the council, emphasising the council's role of gathering core expert groups with professional qualifications and reputations to integrate science into the council's operations.
During the meeting, members focused their discussions on the coordination and working mechanisms within the council, especially in issues of public concern.
Minister of Natural Resources and Environment Trần Hồng Hà suggested the council should undertake practical activities on monthly, quarterly and yearly bases to advise the Prime Minister.
Vice President of the Việt Nam National Academy of Social Sciences Nguyễn Quang Thuấn underlined that sustainable development was only achievable if growth was rapid, the environment was protected and social problems were resolved.
He said it was necessary to take advantage of new scientific and technological achievements and look towards reducing the proportion of agricultural labour and increasing the number of labourers working in the industry and service sectors.
Tô Hoài Nam,vice chairman of the Việt Nam Association of Small and Medium-Sized Enterprises (SMEs), asked the council to look at promoting untapped strengths, adding that Việt Nam lacked businesses capable of leading SMEs to create value chains or building connections among enterprises. — VNS