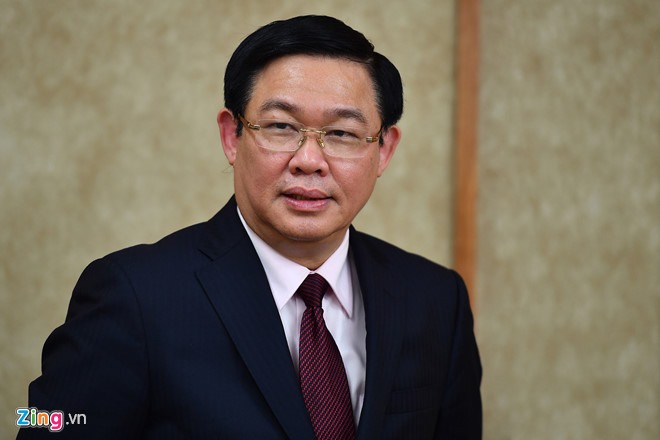 Deputy Prime Minister Vương Đình Huệ. — Photo zing.vn
HÀ NỘI — The Vietnamese stock market was Southeast Asia's most successful market in 2018 in terms of capital mobilisation, said Deputy Prime Minister Vương Đình Huệ.
In a New Year meeting held on Sunday, Huệ was quoted by online news outlet zing.vn as saying that the speeding up of the equitisation process has helped Viet Nam's IPO market lead Southeast Asia in terms of value.
"With a value of US$2.6 billion, the IPO market in Viet Nam unexpectedly surpassed Singapore in IPO value ($500 million)," Huệ said.
The benchmark VN-Index ended 2018 at 892.54 points, lower compared to 2017. However, market capitalisation reached VNĐ3.9 quadrillion, up 10.6 per cent. The size of the stock market increased rapidly, reaching approximately 70 per cent of the country's Gross Domestic Product (GDP).
Liquidity also rose strongly. In 2018, the average liquidity per session was VNĐ6.5 billion, up 29 per cent compared to VNĐ5 billion per session in 2017.
Regarding listed companies, in 2018, revenue increased by 20.5 per cent while profit climbed by 25 per cent year-on-year. As for the securities companies, profit rose by 40 per cent compared to 2017.
Huệ said although a wave of foreign investors' capital was withdrawn from emerging markets to shift towards the US market due to the increasing attractiveness of the US dollar, Việt Nam was still an attractive destination for foreign investors.
During 2018, foreign investors net bought VNĐ42 trillion on the Vietnamese stock market.
He said that although the VN-Index fell in 2018, this adjustment was necessary.
"When the VN-Index reached 1,240 points, we were worried because the market developed too fast, with the P/E (price-to-earnings) ratio staying at around 23 to 24, even higher than that of developed markets like Canada and France," he said.
"It is ideal that the VN-Index stands at around 900 points, with the P/E only at about 16-17," Huệ said.
Việt Nam maintained macro-economic stability, listed companies recorded high profits. Meanwhile, the Government continued to promote equitisation and divestment of State-owned companies, bringing many opportunities for the development of the stock market, the Deputy Prime Minister said.
He added that 2019 would be the year of restructuring as the two bourses would be merged into a single entity: the Viet Nam Stock Exchange.
Huệ also predicted that in 2019, the development of external factors such as the US-China trade war, the interest rate hike of the US Federal Reserve would continue to put pressure on the Vietnamese market.
"We must pay close attention to international market developments," Huệ said. — VNS