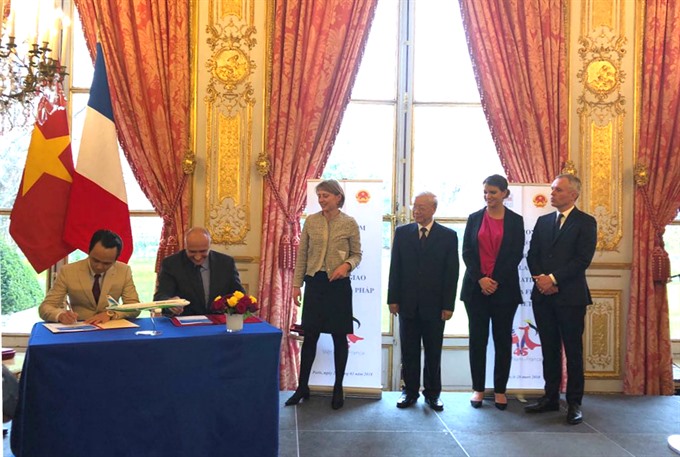 FLC Group's Chairman Trịnh Văn Quyết (left) and Airbus Executive Vice President and Chief of Sales and Marketing Eric Schulz (right) signed an agreement to purchase 24 A321NEO aircraft for Bamboo Airways, under the witness of General Secretary of the Communist Party of Việt Nam Nguyễn Phú Trọng and the President of France's National Assembly François de Rugy in March 2018. — VNS Photo
Viet Nam News
HÀ NỘI — Deputy Prime Minister Trịnh Đình Dũng on Monday signed a decision to approve the establishment of Bamboo Airways, after receiving the proposal of the Ministry of Planning and Investment (MPI) and the consensus of relevant ministries.
According to the MPI, Bamboo Airways has completed all necessary legal procedures for establishment. In addition, other Government agencies, namely the Ministry of Transport, Ministry of Finance, Ministry of Defence, Ministry of Public Security, Ministry of Construction and Ministry of Natural Resources and Environment have confirmed that they have received all necessary documents and agreed on the establishment plan of Bamboo Airways.
Previously, FLC Group and Bamboo Airways signed an agreement to purchase 24 A321 NEOs aircraft with Airbus SE in France in March, under the witness of the Vietnamese Party General Secretary Nguyễn Phú Trọng, and another deal to purchase 20 Boeing B787-9 Dreamliners from the Boeing Company in the US in June, in the presence of Deputy Prime Minister Vương Đình Huệ. These steps are part of FLC Group's efforts to start its first flights later this year.
According to Đặng Tất Thắng, Chief Executive Officer of Bamboo Airways, Bamboo Airways is positioned as a "hybrid" airline, combining the traditional and low-cost models, with the target of offering services that satisfy different demands in every passenger segment.
Along with providing a full range of services as a traditional airline at reasonable prices, Bamboo Airways also distinguishes itself from other existing Vietnamese airlines by offering five-star services for all of its flights. The airline plans to launch direct flights to the US and Europe soon. — VNS