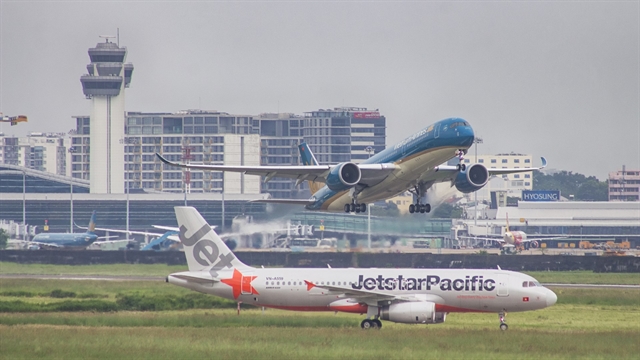 HÀ NỘI  Vietnam Airlines and budget carrier Jetstar Pacific will supply nearly 230,000 extra seats from January 9 to February 8, 2020 to serve increasing travel demands during peak season of Tết (Lunar New Year) holiday.
Vietnam Airlines said it will add 190,000 seats, equivalent to nearly 1,000 flights on all domestic routes, while Jetstar Pacific will offer nearly 40,000 extra seats, or more than 220 flights.
Together with Tết ticket sales kicked off in September, the number of additional seats for Tết holiday offered by the Vietnam Airlines Group, including Vietnam Airlines, Jetstar Pacific and Vasco, has totalled nearly 2.23 million , or around 12,000 flights.
Most of the flights are on routes connecting Hà Nội with HCM City, Phú Quốc and Vinh, and HCM City with Đà Nẵng, Thanh Hóa, Vinh, Huế, Quảng Nam and Quy Nhơn.
In order to save time, passengers are advised to carry out check-in process in advance through telephone, website, mobile application or kiosks at Nội Bài, Tân Sơn Nhất and Đà Nẵng international airports. — VNS