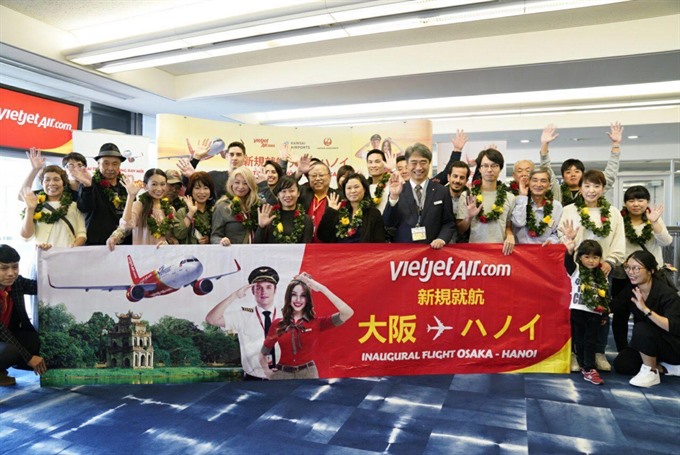 The passengers of Vietjet's first Hà Nội-Osaka flight pose for a photo. — VNS Photo
Viet Nam News
OSAKA — New-age carrier Vietjet's first ever flights connecting Việt Nam and Japan launched on Thurday on a new Hà Nội–Osaka route which is expected to further boost tourism and trade integration between the two countries.
"We are honoured that Kansai International Airport has been chosen as Vietjet's first destination in Japan from Hà Nội and soon from HCM City," said Jeremy Goldstrich, Corporate Executive Vice President and Chief Operating Officer of Kansai Airport.
"Hà Nội is an amazing city and is also the gateway to world famous tourist destinations such as Hạ Long Bay, Ninh Bình and Sapa," he said. "We hope more people from Japan and Việt Nam as well as international travellers can enjoy travelling, touring and trading between the countries thanks to Vietjet's affordable flights."
Using Vietjet's modern new A321neo aircraft, the Hà Nội-Osaka route operates a return flight on a daily basis with a flight time of just over four hours per leg. A flight departs Hà Nội each day at 1.40am and arrives in Osaka at 7:50am (local time). In the other direction, the flight takes off in Osaka at 9:20am (local time) and lands in Hà Nội at around 1:05pm.
All passengers onboard both inaugural flights received charming gifts such as brocade bags, special pens and caps from representatives of Vietjet's management.
Vietjet's new service to Osaka brings the airline's total number of international routes up to 64, with a network that spans 11 countries. The airline will soon launch two other routes to Japan from Việt Nam including HCM City-Osaka (Kansai) route from December 14, 2018 and Hà Nội-Tokyo (Narita) route from January 11, 2019.
Vietjet is giving away 10,000 promotional tickets, with prices starting from zero đồng, in a move to celebrate the launch of its Hà Nội–Osaka route and the most beautiful festive season of the year.
The discounted airfares, which are available between now and Friday at www.vietjetair.com, apply for all Vietjet international routes to Japan. — VNS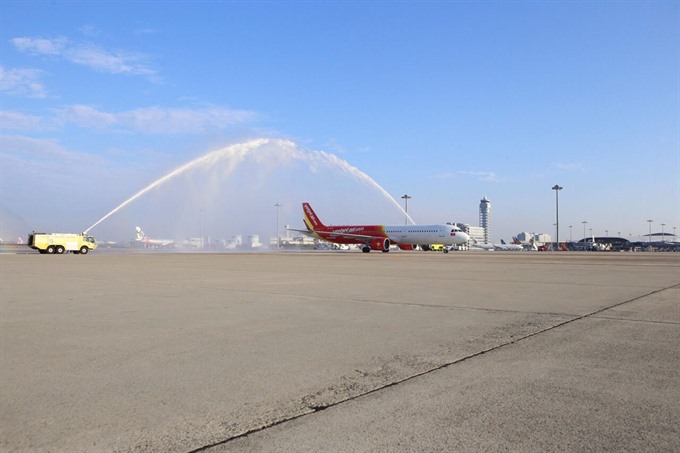 A Vietjet aircraft lands at Kansai Airport in Osaka, Japan. — VNS Photo