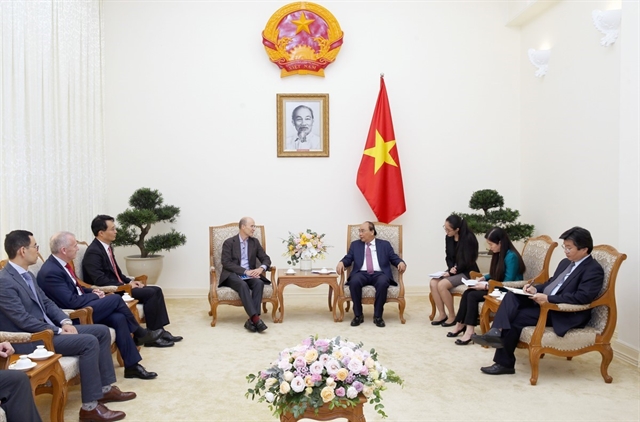 HÀ NỘI — Việt Nam would work to maintain macro-economic stability and economic growth, while creating optimal conditions for businesses investing in the country, Prime Minister Nguyễn Xuân Phúc has pledged.
He made the vow while receiving a delegation of foreign businesses who have invested in the country in Hà Nội on Friday.
The PM highly valued the results of investment activities at VinaCapital, which has US$3.3 billion worth of assets under its management.
He said the country would spare no efforts to address bottlenecks to facilitate firms' operations, noting Việt Nam had jumped ten places in the latest Global Competitiveness report compiled by the World Economic Forum, marking the strongest rise in this year's global ranking. 
The PM added that Việt Nam wanted to attract quality investment and investment in energy development to meet the huge demand of its economic development. 
He expressed his hope that foreign investors would bolster investment in fields and projects which Việt Nam has great demand for, such as infrastructure and energy.
At the meeting, foreign investors discussed with the PM the potential of key sectors in Việt Nam, including liquefied natural gas (LNG) projects, and voiced their wish to co-operate with Việt Nam in this sector with support from the Government, thus contributing to the country's economic development. 
The investors also said they wanted to invest in Việt Nam via the country's stock market and corporate stocks. — VNS