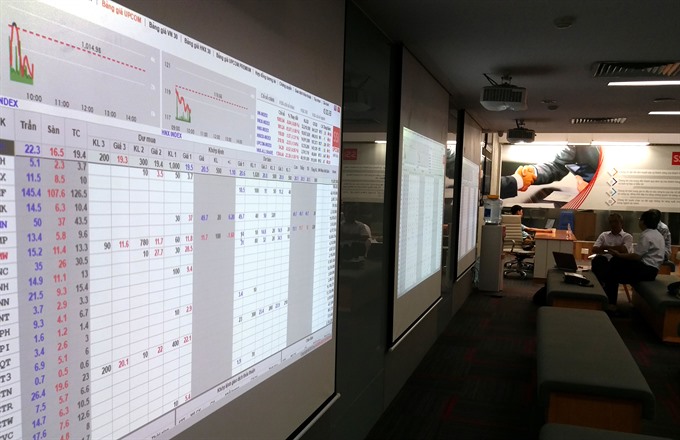 Investors follow market fluctuations at the Saigon Securities (SSI) trading floor on Hà Nội's Ngô Quyền Street. — VNS Photo Đoàn Tùng
Viet Nam News
HÀ NỘI — The market recorded significant variety in large caps' prices on Wednesday, causing slight VN-Index losses.
The VN-Index on the HCM Stock Exchange was down 0.18 per cent to close at 957.14 points on Wednesday. It gained 0.76 per cent to close at 958.84 points on Tuesday.
On the Hà Nội Stock Exchange, the HNX-Index gained 0.33 per cent to 107.74 points. The index declined by 0.23 per cent on Tuesday.
More than 261.1 million shares were traded on the two exchanges, worth VNĐ5.5 trillion (US$236.5 million). The figures were down slightly compared to Tuesday.
Blue-chip stocks like dairy firm Vinamilk (VNM), Vinhomes (VHM), budget carrier Vietjet (VJC) and brewery Sabeco (SAB) all fell sharply and dragged the VN-Index down below the reference level. VNM fell 2.6 per cent to trade at VNĐ133,000 per share. VHM slumped 1.6 per cent to VNĐ80,700 per share. VJC dropped 1.1 per cent to trade at VNĐ131,400 per share.
In the opposite direction, Việt Nam Construction and Import-Export Joint Stock Corporation (VCG), steel maker Hòa Phát Group (HPG), Bank for Investment and Development (BID) and Bảo Việt Holdings (BVH) maintained their growth to slow the market's downward trend.
Shares of Việt Nam's biggest local steelmaker Hòa Phát Group (HPG) rose 1.45 per cent to reach VNĐ35,100 per share after its chairman Trần Đình Long implied a possible purchase of the company's shares.
The company estimates its 11-month profit at VNĐ8.1 trillion and predicts a dividend payout of at least 30 per cent for next year.
The banking sector advanced 0.5 per cent on the rally of numerous banking stocks. TPBank (TPB), Bank for Investment and Development (BID) and Saigon-Hanoi Joint Stock Bank (SHB) gained 1.5 per cent, 1.3 per cent and 1.3 per cent, respectively.
Insurance stocks jumped 4.4 per cent, mostly driven by Bảo Việt Holdings (BVH). Meanwhile, real estate stocks fell 0.55 per cent, dragged down by Vinhomes (VHM), Khang Điền House Trading and Investment JSC (KDH) and Sao Mai Group Corporation (ASM).
Oil and gas stocks slipped 0.26 per cent as PetroVietnam Gas Joint Stock Corporation (GAS), PetroVietnam Technical Services Corporation (PVS) and PetroVietnam Drilling & Well Services Corporation (PVD) all lost ground on Wednesday.
The slide of the US market also affected Vietnamese stocks. The Dow Jones Industrial Average fell 3.1 per cent to close at 25,027.07 points, wiping out the rise of more than 600 points on Monday.
The S&P500 and NYSE Composite subsequently declined 3.24 per cent and 2.83 per cent to settle at 2,700.06 points and 12,221.98 points, eliminating their growth of 30 points and more than 100 points on Monday.
One of the major causes for the US market's decline was the drop of 10-year Treasury note to 2.91 per cent, triggering the yield curve to flatten out. John Williams, president of the Fed's New York regional bank, reaffirmed his statement supporting FED rate hikes in the near future.
According to Bảo Việt Securities Company, the market may keep increasing in the next session and move towards the 959-965 threshold, which would be considered a noteworthy mark for the VN-Index. Therefore, the market may need to accumulate before continuing to rally. — VNS