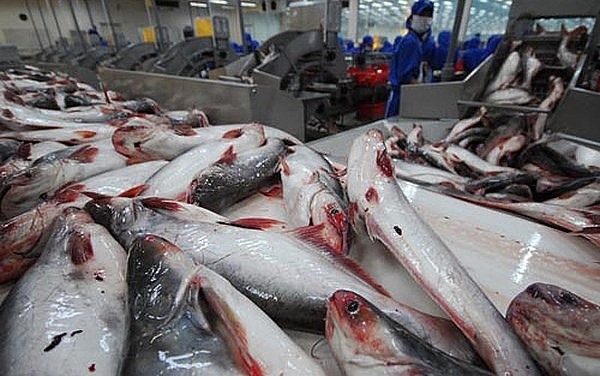 The US government has lowered its anti-dumping duty on frozen fish fillets from Việt Nam. — Photo congthuong.vn
Viet Nam News
HÀ NỘI — The US government has lowered its anti-dumping duty on frozen fish fillets from Việt Nam in the 14th period of review (POR14), according to the Ministry of Trade and Industry.
The preliminary rate is zero for Hùng Vương Group and US$1.37 per kilo for the NTSF Seafoods Joint Stock Company.
This rate is $0.41 per kilo for four other separate applicants, CP Vietnam Corporation, Cửu Long Fish Joint Stock Company, Green Farms Seafood Joint Stock Company and Vinh Quang Fisheries Corporation.
Hùng Vương Group (HVG) and NTSF Seafoods Joint Stock Company (NTSF) are mandatory respondents in the POR14.
Because no party requested a review of the Việt Nam-wide entity in this review, the entity is not under review and the weighted-average dumping margin determined for the Việt Nam-wide entity is not subject to change (i.e., $2.39 per kilo) as a result of this review.
Those rates are much lower than the final rate of $3.87 per kilo in the POR13, according to the Việt Nam Association Seafood Exporters and Producers (VASEP).
According to the announcement from the DOC, it would issue final rates within 120 days after publication of this notice that is scheduled in January 2019.
The Ministry of Industry and Trade has recommended local export enterprises to continue co-operating with the DOC and the ministry to ensure positive results.
Meanwhile, the ministry would continue to co-operate with other ministries, sectors, VASEP and related export companies to take necessary action to protect the rights and interests of the domestic tra fish industry.
According to VASEP, in the first seven months of this year, Việt Nam's tra fish export value to the US reached $255 million, a year-on-year increase of 15.6 per cent. — VNS