Although Vietnam's aviation industry has great potential for development, there remain bottlenecks which need to be removed, especially in infrastructure development.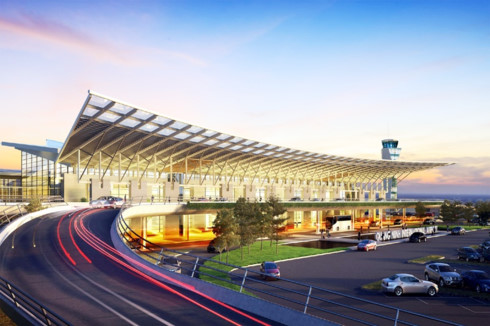 The growth seen in the macro-economy and domestic and international tourism over recent years has helped to boost the aviation sector.
Experts predict that the sector has great potential for further development but there are a number of hurdles which need to be removed.
Tourism and aviation industry strive for common development
According to statistics from the transport sector, in the 2010-2017 period, Vietnam's air transport achieved an annual growth rate of 16.64%, with a 14% increase in passengers and freight.
In the first half of the year, the volume of passengers increased from 15.2% to 24.6 million, while freight transport soared by 14.8% to 176,400 tons of cargo compared to the same period last year.
In 2017, there were 12.9 million foreign arrivals in Vietnam while 7.5 million Vietnamese people traveled abroad. More than 70 million Vietnamese people chose to travel within the country last year and most passengers used air travel as their mode of transport. At present, Vietnam has four airlines in operation: Vietnam Airlines, Jetstar Pacific Airlines, VietJet Air and VASCO. A new airline, Bamboo Airways, is expected to come into operation this year. Competition among airlines is considered fierce both domestically and internationally.
Mr Nguyen Quy Phuong, head of the Vietnam National Administration of Tourism's Travel Department, said the aviation and tourism industries have so far been lacking inco-development orientations. This is somewhat incongruous when air transport carries the highest number of tourists on an annual basis.
According to the World Tourism Organization, last year, the world was host to more than 1.2 billion passengers, earning a revenue of US$1,330 billion. Of the four world regions, the Asia-Pacific area took the lead in passenger numbers over the first four months of the year. Vietnam has been home to some of the world's most dynamic development of the past five years.
Mr Phuong said Vietnam's aviation market has great potential for development, as according to the plan,Vietnam is expected to welcome 10.5 million international visitors annually by 2020.Last year, the figure was already 13 million and the number of visitors is predicted to reach 21 million by 2020.
Transport systems including aviation, railway, road, and maritime vessels will be required to support the growth in international visitors to Vietnam but as air transport makes up the largest proportion, it will require the largest investment.
Vu Thi Thu Thuy, Vice Chairwoman of Quang Ninh People's Committee said the locality received a boost to its redevelopment thanks to growth in the tourism sector. For example, Quang Ninh welcomed more than 9.5 million passengers last year, contributing 15% of the province's GDP.
This year, the province is expected to receive 12 million tourists, including 5 million foreign arrivals. Ms Thuy expects the number of visitors to the province to continue to rise on the back of development in the aviation sector,an increase in the number of airlines and improvement in airport infrastructure.
Clogs in the system need to be cleared for progress
Mr Phuong noted that although there are prospects for the development of Vietnam's aviation sector, the development of infrastructure has not yet met the obvious demand.
Nguyen Thien Thong, former chairman of the aviation technique subject of HCMC University of Technology shared the same viewpoint, proposing that Vietnam needs a national policy for civil aviation.
According to Mr Thong, the aviation sector has had a massive impact on the national economy. For example, a study of the expansion of Tan Son Nhat airport has shown that if a domestic passenger spends US$100 on average, 10,000 passengers will contribute US$1 million. However, international passengers make a greater contribution and their average spend is US$500.   
Therefore,  Thong commended that Vietnam should have a proper policy to attract investment in the development of aviation sector, especially private investment. At present, 14% of the world's airports are run by private companies and these private airports carry up to 41% of all international passengers.
Economist Ngo Tri Long said the demands for domestic travel will continue to rise due as the economy develops following the trend for an open and integrated country ready to take advantage of its beautiful landscapes and secure destinations.
The number of visitors to Vietnam is forecast to continue to rise in the time ahead, leading to a surge in international demand. One knock on effect of this will be the bright prospects for development in the transport sector including aviation, maritime, road and railway.
Mr Long said that beyond removing bottlenecks in infrastructure, the growth of the sector depends on other important factors such as experience, aptitude and business methods of investors in order to realize the potential of the aviation industry.
Vice President of the Development Strategy Institute (DSI) of Ministry of Planning and Investment (MPI), Nguyen Van Vinh, said apart from improving infrastructure at airports, hindrances to progress need to be cleared through investment in and the modernization of infrastructure at each airport to connect airports to regional destinations.
Mr Vinh said that while private sector investment is needed forthe development of aviation infrastructure, the greatest advantage would come from institutional reform and clarifying the responsibilities of the state and investors for their mutual benefit.
VOV