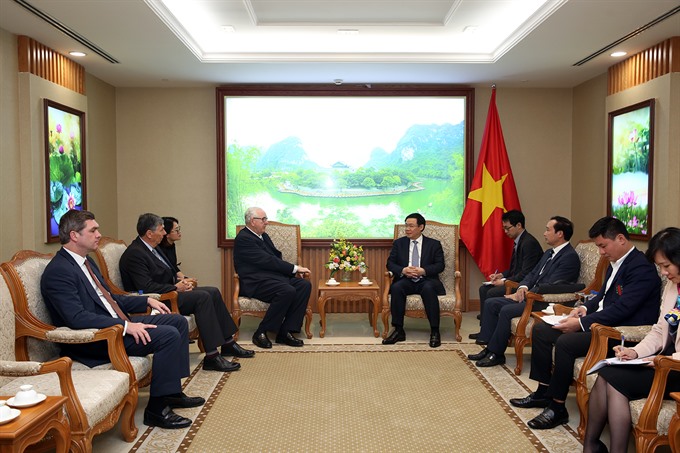 Jardines Matheson Group is interested in the equitisation and divestment of Vietnamese SOEs. — Photo chinhphu.vn
Viet Nam News
HÀ NỘI — The United Kingdom's Jardines Matheson Group can enlarge its investment to take part in the restructuring of State-owned enterprises (SOEs) and credit institutions in Việt Nam.
This was announced by Deputy Prime Minister Vương Đình Huệ during a reception in Hà Nội on Monday that he had hosted for Henry Keswich, chairman of the Jardines Matheson Group.
Jardines Matheson is a multi-sectoral and multi-national group that has been present in Việt Nam for more than 20 years. The group holds 10 per cent of charter capital at Vinamilk, 25 per cent of capital at Trường Hải Auto Corporation and 23 per cent at the Refrigeration Electrical Engineering Corporation.
At the reception, Keswich expressed his interest in the equitisation and divestment of Vietnamese SOEs, hoping to participate in the field.
He also pledged to help Việt Nam develop its capital market with high-level services in the time to come.
According to Huệ, the restructuring of SOEs and credit institutions are two among five key tasks in the country's economic restructuring plan.
The State will own full stakes only in fields related to national security, defence and special public-utility services, he said, adding that the Government has issued a list of SOEs that must be divested and equitised until 2020. The Government is also focusing on dealing with weak banks and balancing credit and non-credit services of banks, he said.
He also said the Government would work to ensure macro-economic stability and create a favourable business environment in conformity with international standards and practices.
He asked the group to pay attention to developing existing fields such as milk products, automobiles, machinery, construction, real estate and finance and insurance.
According to Huệ, the expansion of investment in Việt Nam will benefit Jardines Matheson as the country is a member of more than 10 free trade agreements. — VNS