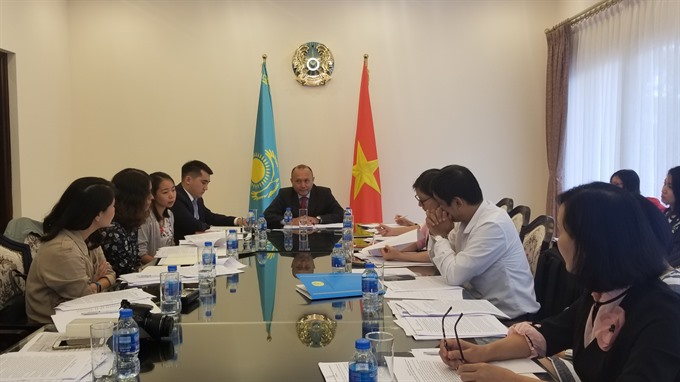 Beketzhan Zhumakhanov, ambassador of Kazakhstan to Việt Nam, said Kazakhstan could be a transit hub for goods travelling between Southeast Asia and Europe.— VNS Photo
Viet Nam News
HÀ NỘI — Co-operation between Kazakhstan and Việt Nam in transport and logistics has great potential, said Kazakhstan's ambassador to Việt Nam Beketzhan Zhumakhanov.
Situated in Central Asia, Kazakhstan could be a transit hub between Southeast Asia and Europe.
Co-operation between the two countries is taking on even more importance as Việt Nam is expected to sign a free trade agreement with the European Union soon, according to the ambassador.
"Once the agreement is signed, the transportation of goods between Việt Nam, China, Kazakhstan, Russia and Europe will be conducted by railway instead of by sea, which will shorten the time it takes businesses to deliver goods from Việt Nam and other ASEAN countries to Europe," Zhumakhanov said at a press conference on Wednesday.
He emphasised that the development of transport and logistics between the two countries via China was considered the most important aspect of economic cooperation between the countries.
At a meeting between railway sector officials from Kazakhstan and Việt Nam in April, the two sides agreed to develop routes through the Chinese-Kazakhstan port of Lianyungang, Pingxiang (China) and Đồng Đăng (Việt Nam) to ensure container transportation along the Việt Nam-China-Kazakhstan-Europe route.
The aforementioned route would be more convenient compared with the sea route, he said.
For example, it takes 16 days to transport goods from Lianyungang port to Duiburd Railway Station (Germany), while transporting goods from Việt Nam to Europe by sea takes 45-50 days.
He said Việt Nam was an important trade partner of Kazakhstan in Southeast Asia. Bilateral trade between the two countries reached US$542.7 million last year, an increase of 48 per cent compared with the previous year.
The main export goods of Việt Nam include telephones, computers, electronic components and agricultural products such as rice, cashew nuts and pepper. Việt Nam imports chemicals, ores, minerals and wheat from Kazakhstan.
However, he said there was still room to promote co-operation between the two countries in the near future, suggesting that agriculture was a potential area for improvement.
"Kazakhstan has some agricultural products that Việt Nam does not have, and Việt Nam has a lot of tropical fruits. The two sides won't compete but will supplement each other," the ambassador said.
He said Kazakhstan encouraged Vietnamese enterprises to visit to explore opportunities for investment, adding that connectivity between businesses from the two countries was the biggest challenge. — VNS