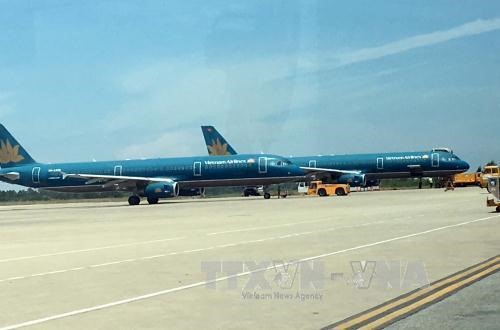 A view of Phú Bài International Airport in the central Thừa Thiên-Huế Proince. — VNA/VNS Photo Quốc Việt
Viet Nam News
THỪA THIÊN – HUẾ — Central Thừa Thiên-Huế Province plans to expand the Phú Bài International Airport to accommodate 3 to 3.5 million passengers by 2020 and up to 7 million per year by 2025. 
The province will expand the airport's terminal, taxiway, runway and apron at an investment of VNĐ5.56 trillion (US$245 million).
The Phú Bài Airport is located on National Highway 1A in Hương Thủy Town. It plays an important role in the economic, cultural, social and defence strategy of Thừa Thiên-Huế and the northern-central region.
It is also crucial to promoting tourism in Huế City and the entire central region. 
This year, the airport and the People's Committee of Hương Thủy Town have co-ordinated in marking landmarks around the airport while reviewing the land area for the airport's expansion. 
Initially, the airport will be extended to Phú Bài, Thủy Tân and Thủy Phú communes of Hương Thủy Town. The area needing clearance for the project is 153.17ha, including 24.22ha in Phú Bài, 20.79ha in Thủy Phú and 108.16ha in Thủy Tân.
A total of 296 households will need to be relocated. Currently, the Phú Bài Airport receives an average of 1.5 million passengers per year and is often overloaded. — VNS