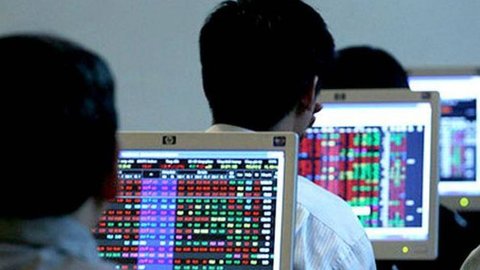 HÀ NỘI — There are many securities products that are widely used in other countries but have not yet appeared on the Vietnamese stock market, said Doctor Phan Đức Hiếu, deputy director of the Central Institute for Economic Management (CIEM).
"This makes the Vietnamese stock market less attractive, affecting capital mobilisation of listed companies," Hiếu said at a seminar held in Hà Nội on Wednesday, themed "Enhancing Việt Nam's capital market accessibility", co-organised by CIEM and the State Securities Commission (SSC).
Participants at the seminar discussed solutions to offer new securities products to diversify the stock market and attract investors, helping businesses mobilise capital for production and development.
According to SSC Vice Chairman Phạm Hồng Sơn, the securities sector has made great efforts to develop policies to attract foreign investment, raising the foreign ownership ratio in the Vietnamese stock market.
"This has a positive impact on the flow of foreign indirect investment (FII) into Việt Nam," Sơn said.
"Management agencies have reduced the administrative procedures in market access for foreign investors, information is also disclosed in English," Sơn said.
They had also made efforts to increase the size and liquidity of the stock market as well as introduced new products. A number of new securities products were about to be introduced such as the derivatives market with VN-30 Index futures contracts, Government Bond Futures Contracts and covered warrants, Sơn said.
In the future, the State Securities Commission and the two stock exchanges, the Hồ Chí Minh Stock Exchange (HoSE) and the Hà Nội Stock Exchange (HNX), would continue to launch more new securities products to increase the attractiveness of the stock market. They would also do more research to improve policies, especially those related to the trading activities of foreign investors, Sơn said.
According to him, the capital market in Việt Nam has made a significant contribution to the mobilisation and allocation of resources for development investment. The inception and operation of the stock market mark an important step in the development of the capital market, positively affecting the overall development of the financial and banking industry.
The stock market has gradually become an important capital mobilisation channel, especially for local governments and enterprises. Vietnamese businesses have been more aware and participated in capital mobilisation on the stock market to diversify production and business activities, Sơn said.
Lê Anh Tuấn, Deputy General Director of HCM City-based fund management company, Dragon Capital, said that by the end of 2018, Việt Nam's outstanding credit balance stood at US$310 billion while the securities market value reached $170 billion.
As of mid of April this year, total capitalisation value on the HOSE and the HNX reached $145 billion. Total capitalisation value of foreign investors on these two exchanges reached $35 billion. — VNS