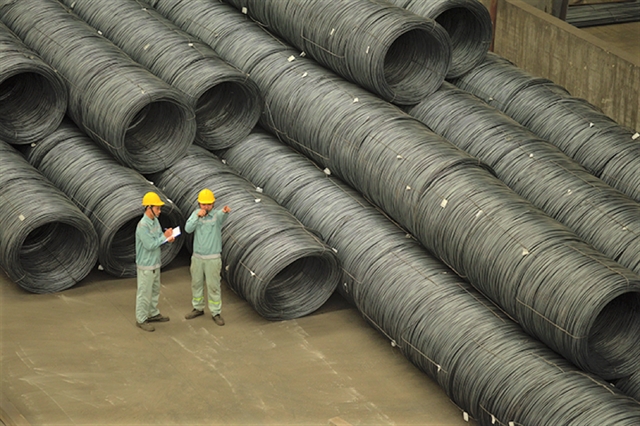 HÀ NỘI — Despite disruptions caused by the fourth wave of the COVID-19 pandemic, steel producers still reported extraordinary profits. 
In its third-quarter financial report, Hoà Phát Group (HPG) posted a rise of 56 per cent year-on-year in revenue to VNĐ38.9 trillion (US$1.7 billion), resulting in record profit after tax of VNĐ10.35 trillion, 2.7 times higher compared to last year. 
As of September 30, the leading steel producer recorded revenue of over VNĐ105.8 trillion, up more than 60 per cent. Its profit after tax jumped 200 per cent over last year to VNĐ27.1 trillion, which exceeded 45 per cent of the year's plan.
In the past nine months, Hoà Phát produced 6.1 million tonnes of crude steel, up 50 per cent over the same period last year. Sales of steel products reached 6.3 million tonnes during the period, up 43 per cent. Of which, construction steel sales rose 12 per cent to 2.8 million tonnes, while hot rolled coil (HRC) sales reached nearly 2 million tonnes. 
Tiến Lên Steel Group (TLH) also reported outstanding performance last quarter. 
Even though the company's consolidated net revenue increased 1.5 per cent year-on-year to nearly VNĐ909.4 billion, its profit after tax surged more than 8.3 times to VNĐ105.5 billion. 
Tiến Lên Steel Group said that the rise in revenue was driven by higher steel prices, while low inventories resulted in a sharp drop in the cost of goods sold. During the period, the company also minimised a number of expenses, leading to a sharp gain in net profit.
In the first nine months of 2021, its revenue climbed 15 per cent to VNĐ3.28 trillion, with net profit up to VNĐ422.3 billion from just nearly VNĐ997 million in the same period last year. With the result, the company exceeded its whole year target. 
This year, Tiến Lên Steel Group set a target of VNĐ250 billion in profit after tax. 
Similarly, Thái Nguyên Iron and Steel (TIS) and Mê Lin Steel (MEL) witnessed strong growth in business results.
Thái Nguyên Iron and Steel said in its third-quarter report that the company's net revenue jumped 46.5 per cent over last year to nearly VNĐ3.1 trillion, with net profit reaching nearly VNĐ10 billion, 25 times higher than that of last year. 
During the period, its profit from financial activities rose strongly, while interest expenses declined. 
In the first nine months, it posted an increase of 37.5 per cent year-on-year to over VNĐ9.6 trillion. Given the sharp fall in expenses and higher steel prices, its profit after tax rose 7 times over last year's to VNĐ113 billion.
Meanwhile, Mê Lin Steel recorded a loss of 18.7 per cent in net revenue to VNĐ196 billion. But thanks to a significant cut in expenses, with financial expenses and general and administrative expenses both down more than half, its profit after tax was still 10.6 times higher than the same period last year to over VNĐ18.7 billion. 
According to Mê Lin Steel, in the third quarter, domestic steel prices rose sharply compared to the same period of 2020, while the company's inventories were still relatively low, so profits surged. At the same time, the company also maximised production and business expenses like sales and interest expenses, and increased efficiency.
Lê Xuân, a senior trader, said that steel enterprises were likely to benefit as China was tightening its annual steel production output.
"Environmental problems and limited energy consumption are forcing Chinese enterprises to reduce output, causing a fall in the global steel supply, as China is the world's largest steel exporter," Xuân said.
"It will support our steel producers."
On the stock market, HPG and TLH are listed on the Hồ Chí Minh Stock Exchange (HoSE), while MEL is traded on the Hà Nội Stock Exchange (HNX) and TIS is on UPCOM.
These stocks have gained strongly since the beginning of the year with HPG shares and TIS shares up 34 per cent and 53.2 per cent, respectively. TLH shares even jumped more than 197.3 per cent, while MEL shares rose nearly 130 per cent. 
"Steel stocks may still have room to increase thanks to the expectation of profit growth and public investment is expected to increase sharply post-pandemic," said Xuân.
She added that the restart of real estate projects also increased demand for steel products. — VNS