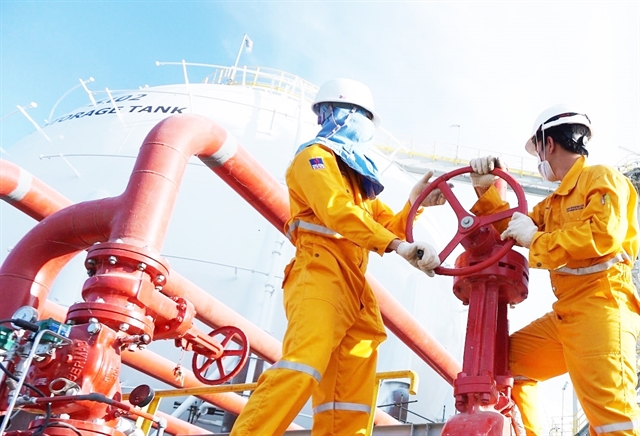 HÀ NỘI — Việt Nam's stock market edged higher on Monday as investors flocked into oil and gas, construction and banking stocks. 
The market benchmark VN-Index on the Hồ Chí Minh Stock Exchange (HoSE) finished the first trading day of the new month at 1,186.17 points, up 1.51 per cent. The gain ended last week's downward trend. The index decreased by 0.43 per cent last week.
Trần Xuân Bách, a senior analyst from Bảo Việt Securities Co., wrote in a daily report to customers that the market's trend is expected to continue sideways with alternating up and down sessions. And the index might test the resistance territory of 1,175 – 1,185 points during first sessions of this week. 
At the end of the session, 358 stocks climbed, of which 35 stocks hit the maximum daily gain, while only 85 stocks declined. And 60 stocks stayed steady. 
High liquidity in the market was the main force for the gain Monday. Nearly 643.4 million shares were traded on the southern bourse, worth over VNĐ16 trillion. In the morning session alone, over VNĐ10.2 trillion was poured into the market. 
However, the strong cash inflows once again created an overload on HoSE in Monday's afternoon session. 
Big stocks across all sectors posted good performance on Monday with the VN30-Index rising by 1.55 per cent to 1,191.83 points. Of the VN30 basket, 27 stocks climbed, while only three stocks declined. 
Top five stocks influencing the market's trend were in gas and oil, construction and banking sectors including PetroVietnam Gas JSC (GAS), up 2.91 per cent, Vinhomes JSC (VHM), up 1.38 per cent, Vietcombank (VCB), up 1.02 per cent, Techcombank (TCB), up 2.42 per cent and Việt Nam International Commercial Joint Stock Bank (VIB), up 6.93 per cent. 
On the Hà Nội Stock Exchange (HNX), the HNX-Index rose 1.26 per cent to 252.37 points. The HXN30-Index increased by 2.69 per cent to 375.25 points. 
During the session, more than 126.97 million shares were traded on the northern bourse, worth over VNĐ2.2 trillion. 
Meanwhile, foreign investors were net sellers on both exchanges, with the net value of VNĐ209.29 billion on the HoSE and VNĐ17.12 billion on the HNX. 
On the macro-economic front, Việt Nam's consumer price index (CPI) in February increased by 1.52 per cent over the previous month, the highest gain of the index in February since 2013, according to data from General Statistics Office of Việt Nam (GSO).
The industrial production index in February, meanwhile, is estimated to tumble against the previous month.