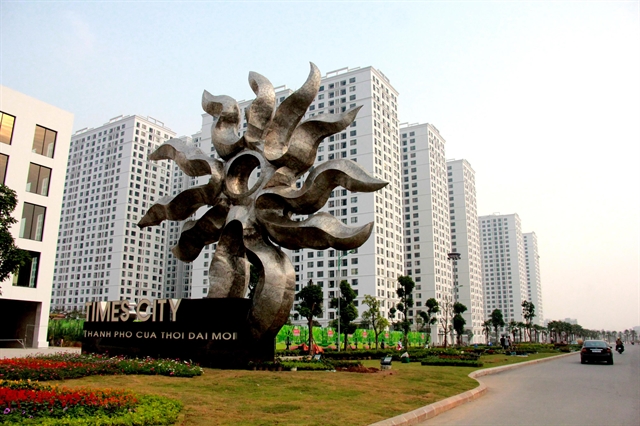 HÀ NỘI — Shares struggled to stay positive on Thursday, digesting the previous session's huge rebound as investors were still concerned about the lasting economic impact from the COVID-19 pandemic.
The benchmark VN-Index on the Hồ Chí Minh Stock Exchange increased 0.57 per cent to close trading at 694.21 points.
The southern market index gained 4.71 per cent to end Wednesday's session at 690.25 points, its largest one-day percentage gain in eight years.
The retreat of the VN-Index on Thursday suggested investors should treat the rally in stocks with caution and reminded them the rally witnessed on Wednesday was not the start of a durable recovery.
In its daily report, BIDV Securities Co said the last two consecutive gaining sessions partly eased investors' anxiety.
"But in the context of unpredictable disease movements, the VN-Index has not escaped from the short and medium-term decrease phases," the company said.
"Investments should be kept at a reasonable proportion in their allocation strategy," it said.
Nearly 222 million shares were traded on the southern bourse, worth VNĐ4 trillion (US$171.6 million).
Twenty-one of the 30 largest stocks by market capitalisation and trading liquidity in the VN30 basket dropped to weigh down on the market, while nine moved up.
Among hard-hit large-caps were Mobile World Group (MWG) as Government measures forced the business to shut stores.
Shares of the country's biggest mobile phone and accessory retailers dropped to the floor price of VNĐ68,000 per share. The company plans to temporarily close a number of its mobile phone retail stores Thế Giới Di Động and electronics retail stores Điện Máy Xanh located in areas affected by COVID-19.
Other large losers were Vietinbank (CTG) (down 3.8 per cent), PetroVietnam Gas JSC (GAS) (down 2.3 per cent), Hoà Phát Group (HPG) (falling 4.8 per cent) and Techcombank (TCB) (down 3 per cent).
On the positive side, market supporters included Vingroup (VIC) (up 6.9 per cent), Vinhomes (VHM) (rising 3.2 per cent), VRE (up 5.8 per cent) and Bảo Việt Holdings (BVH) (advancing 6.9 per cent).
On the Hà Nội Stock Exchange, the HNX-Index lost 2.27 per cent to close Thursday at 97.81 points.
The northern market rose 3.24 per cent to close Wednesday at 100.09 points.
Nearly 49.4 million shares were traded on the northern bourse, worth VNĐ390 billion.
Foreign investors net-sold VNĐ43.34 billion on HOSE, including Masan Group (MSN) (VNĐ95.91 billion), Vinhomes (VHM) (VNĐ36.84 billion) and Vincom Retail (VRE) (VNĐ25.28 billion). They were net sellers on the HNX with a value of VNĐ3.26 billion.
According to Bảo Việt Securities Co, the VN-Index is forecast to continually retest the resistance zone of 700-720 points in the last trading session of the week.
"However, we leave open the possibility of market's volatility and correction and throwback toward the support zone of 653-673 points," the company said in its daily report. — VNS