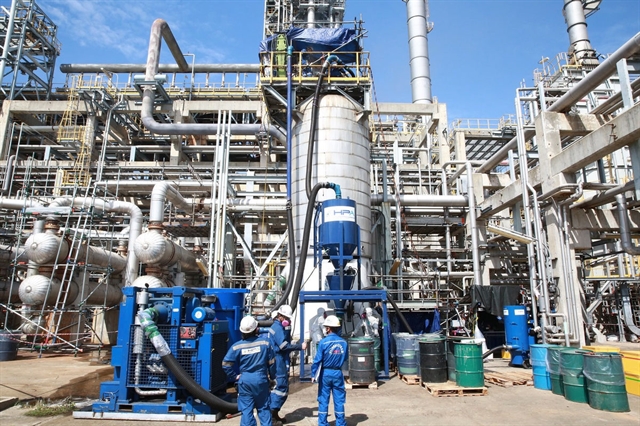 HÀ NỘI — Shares ended on a positive note on Tuesday thanks to cash flow that continued pouring into pillars as well as oil and gas stocks.
The benchmark VN-Index on the Hồ Chí Minh Stock Exchange (HoSE) rose 0.32 per cent, equivalent to 3.91 points, to 1,239.96 points. The market breadth was negative as 190 stocks climbed while 248 stocks fell and 47 ended flat.
The market liquidity was high with a trading volume of over 694 million shares, worth over VNĐ16.9 trillion (US$737 million).
"The VN-Index dropped from the beginning but quickly regained the rally and closed with a slight increase. In the market, investment cash flow improved," said BIDV Securities Co.
Foreign investors were net sellers on both HoSE and HNX. Besides, market breadth turned negative with an increase in liquidity compared to the previous session.
According to the current assessment, VN-Index can continue to fluctuate in the coming sessions and it is likely that there will be a slight decrease, the company said.
Foreign investors net sold VNĐ2.43 billion on HOSE, including Vietinbank (CTG) (VNĐ297.8 billion), dairy firm Vinamilk (VNM) (VNĐ50.8 billion) and Masan Group (MSN) (VNĐ34.7 billion). They were net sellers on the HNX with a value of VNĐ48.73 billion.
The VN30-Index, which tracks the 30 biggest stocks on the southern bourse, increased 0.44 per cent, equivalent to 5.46 points, to 1,255.36 points.
In the VN30 basket, 14 stocks rose, while 13 declined and three stayed unchanged.
The afternoon trading session was somewhat quiet as system overload from the morning session continued to worry traders, said financial news site cafef.vn. But pillar stocks and energy stocks still posted good performance on Tuesday, supporting indices.
Notable gainers included insurer Bảo Việt Holdings (BVH), Vietinbank (CTG), Eximbank (EIB), Hoà Phát Group (HPG), Novaland (NVL), VinGroup (VIC), Vincom Retail (VRE), PetroVietnam Technical Services Corporation (PVS), The PetroVietnam Drilling & Well Service Corporation (PVD), PetroVietnam Construction Corporation (PVC), PetroVietnam Gas JSC (GAS) and Bình Sơn Refining and Petrochemical Company Limited (BSR).
On the Hà Nội Stock Exchange (HNX), the HNX-Index rose 0.15 per cent to close Tuesday at 291.68 points.
In Tuesday's trade, some 198 million shares were traded on the northern bourse, worth nearly VNĐ3.7 trillion.
The market is expected to encounter fluctuations with alternating increases and decreases in the next session, said Bảo Việt Securities Co.
"VN-Index may correct to 1,225-1,230 points before challenging the resistance zone of 1,250-1,265 points. The domestic cash flow continues to be the key driver supporting the current market's trend.
"Large-cap stocks, especially the leading ones, will increase to support the market's uptrend," it said. — VNS