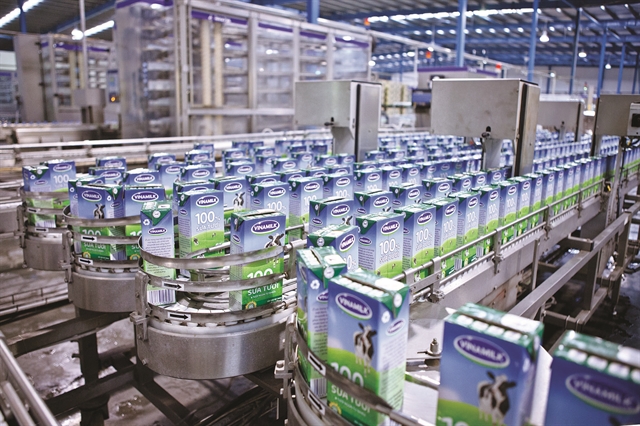 HÀ NỘI — Shares could rebound next week following recent sharp falls that have triggered investors to bottom fish, but fluctuations can be expected.
The benchmark VN-Index on the Hồ Chí Minh Stock Exchange advanced 0.87 per cent to close Friday at 968.54 points.
An average of 214.7 million shares were traded on the southern bourse during each session last week, worth VNĐ4.1 trillion (US$177.4 million).
The VN-Index experienced three advancing sessions and two declining sessions before settling at 968.54 points, up by 0.35 per cent from the previous week.
"The VN-Index is forecast to head towards the resistance zone 970-972 points early next week, which will confirm the market trend in the short term," Bảo Việt Securities said in a report.
"The index would possibly experience volatility at this zone. The market continues to face a wide divergence among stock sectors while cash flow is expected to rotate for profit," it said.
"The index needs to successfully penetrate the resistance zone of around 970-972 points to enter an uptrend and retest a resistance zone of 980-985 points."
According to Việt Dragon Securities Company (VDSC), Vietnamese shares will expand as investors went fishing for stocks that had been hit hard in previous days.
"The bottoming progress may go to the end and an uptrend is forming. Traders often consider buying on corrections," VDSC said.
The market gradually became positive thanks to strong growth of banking stocks. The signals of bottom-forming were clear. Investors should increase their proportion of stocks, especially during correction sessions, the company said.
Last week, the Bank for Investment and Development of Việt Nam (BID) and Vietinbank (CTG) both had positive impacts on the market.
In the food and beverage group, Vinamilk (VNM) maintained its rally and acted as a pillar for the market's uptrend last week. Other stocks including brewer Sabeco (SAB), tra fish processor Vĩnh Hoàn Company (VHC) and Vinacafé Biên Hòa Corporation (VCF) also made gains.
Stocks in the "Vin" family performed poorly last week. Vinhomes (VHM), Vingroup (VIC) and Vincom Retail (VRE) all dropped sharply, with VHM having the worst impact on the market.
Regardless, investors were more optimistic about the market's prospects as last week's liquidity improved.
Foreign investors were net buyers of more than VNĐ1 trillion on the HOSE in January.
In the last three years, foreign investors were net buyers of VNĐ2.68 trillion, VNĐ12.25 trillion, and VNĐ1.04 trillion. Normally, foreign investors were active in February and March.
According to Bảo Việt Securities Co, this week, stock exposure should be maintained at 30-35 per cent of portfolios. Investors might consider selling stocks at the resistance zone of 969-972 points.
If the market penetrates the resistance zone of 970-972 points, investors may consider raising stock exposure for market corrections, the company said. — VNS