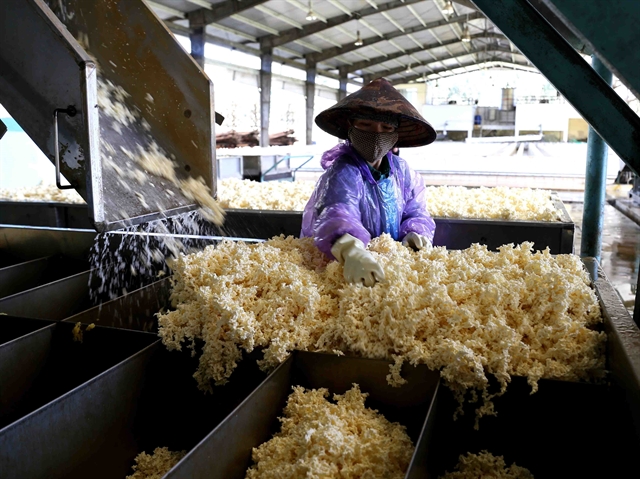 HÀ NỘI — The market maintained its rally on positive sentiment with some big stocks suddenly surging at the end of Thursday's session. 
On the Ho Chi Minh City Stock Exchange (HoSE), the VN-Index climbed 1.61 per cent to 1,174.38 points. The index started the first trading session after the Tết holiday on Wednesday with an increase of 40.85 points, equivalent to 3.66 per cent. 
"The VN-Index will head to test a resistance territory of 1,160 – 1,180 points in the other trading days of the week. Selling pressure at this resistance territory might increase, making the market face strong fluctuations," Bảo Việt Securities Co. said in a daily report. 
At the end of the session, 227 stocks increased, of which 20 stocks recorded the maximum daily gain of 7 per cent, while 166 stocks declined. And 55 stocks ended flat. 
During the session, over 614.8 million shares were traded on the southern bourse, worth VNĐ15.13 trillion. 
All sectors posted positive results with banking, production and construction stocks outperforming others. In the morning session, energy stocks of the utilities sector dominated the market, while many big stocks from banking, construction and production sectors decreased.
The sudden change in trend was widely expected by analysts since the February 2021 contracts expired on Thursday. 
Top five influencing stocks in the market were Vietcombank (VCB), up 2 per cent, Saigon Beer – Alcohol – Beverage Corporation (SAB), up 6.12 per cent, Vietnam Rubber Group JSC (GVR), up 6.81 per cent, Vinhomes JSC (VHM), up 2.18 per cent and Vingroup JSC (VIC), up 1.85 per cent. 
The large-cap tracker VN30-Index was also up more than 1 per cent to end Thursday's session at 1,187.94 points. Twenty-five of the 30 biggest stocks in the VN30 basket rose, while only two stocks declined. 
On the Hà Nội Stock Exchange (HNX), the HXN-Index climbed 0.17 per cent to 230.96 points. The HXN30-Index also rose 0.66 per cent to 353.02 points. 
Domestic investors poured over VNĐ2.2 trillion into the northern market, equivalent to 127.24 million shares. 
In general, the market's liquidity was higher than the day before with total trading volume of 796 million shares, worth nearly VNĐ18.2 trillion.
Foreign investors were net buyers on HoSE with a net value of VNĐ616.18 billion. Meanwhile, they were still net sellers on the northern market. They net sold VND28.64 billion in shares on Thursday. — VNS