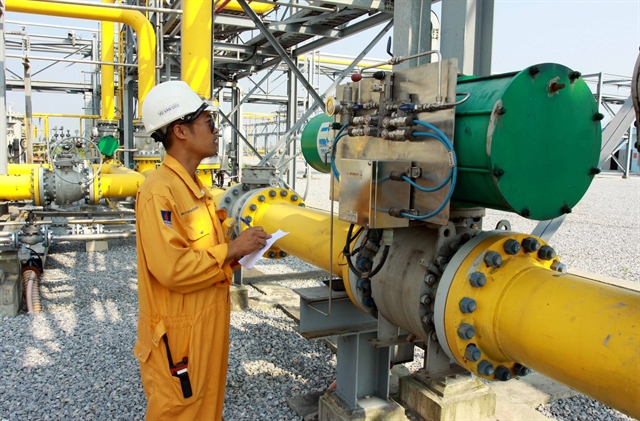 HÀ NỘI – Local shares rose for a second day, buoyed by foreign trading and positive performance of oil and gas stocks.
The VN-Index on the Hồ Chí Minh Stock Exchange closed Wednesday up 0.47 per cent at 973.65 points. It rose 0.3 per cent in the previous session.
After rising more than 1 per cent on Tuesday, the HNX-Index on the Hà Nội Stock Exchange inched up just 0.04 per cent to end Wednesday at 105.14 points.
Liquidity declined with 183.4 million shares worth VNĐ4.32 trillion (US$185.5 million) being traded in the two markets, down 4.5 per cent in volume and 9 per cent in value compared to Tuesday's figures.
Foreign investors continued their buys and supported the local market.
They extended their net buying streak to five sessions in a row on the Hồ Chí Minh Stock Exchange with value of nearly VNĐ193 billion on Wednesday, up 51 per cent over the previous session. Their net buy value on the Hà Nội bourse was VNĐ27 billion.
Oil and gas stocks topped their buys on both exchanges. In HCM City, Petrolimex (PLX) and PV Gas (GAS) were the most popular stocks with net buy value of VNĐ67 billion and VNĐ26.4 billion, respectively. In Hà Nội, foreign traders poured net value of VNĐ30.5 billion into shares of PetroVietnam Technical Services (PVS).
"Foreign investors' net buying activities are a positive sign, supporting the market's recovery in the short run. However, trading volume has not improved much, showing investors still have a certain caution, refusing to buy at high prices in this period," stock analysts at Sài Gòn-Hà Nội Securities Co (SHS) wrote in a daily market report.
Oil and gas stocks were among the best performers on Wednesday, propped up by gains on world oil markets. Oil prices shot up for four consecutive sessions following escalating tensions in the Gulf.
In the local market, big companies such as PV Gas, Petrolimex, PetroVietnam Drilling and Wells Service and PetroVietnam Technical Services gained between 1.3 per cent and 2.5 per cent.
Other blue chips also gained and supported the market, such as Vietjet (VJC), Coteccons Construction (CTD) and Hồ Chí Minh Infrastructure and Investment (CII) all rising by more than 2 per cent.
SHS's analysts have suggested investors pay close attention the testimony of the US Federal Reserve chairman Jerome Powell on monetary policy before Congress on Wednesday and Thursday this week as this event can cause volatility in the market. — VNS