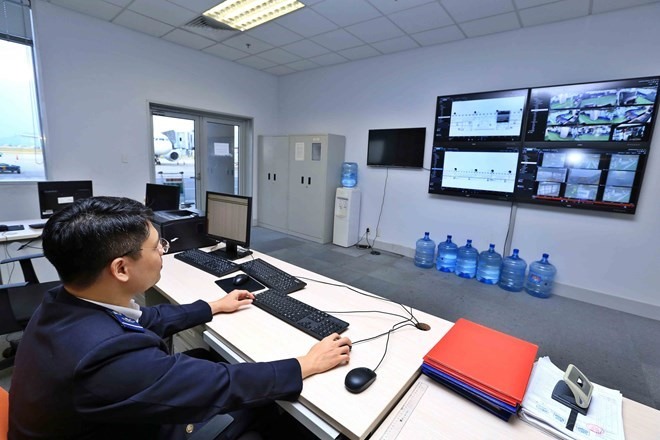 A seminar was held in Hà Nội on Thursday to collect feedback on the draft decree on a national one-stop shop mechanism and specialised inspection of exports-imports. — Photo VNA
Viet Nam News
HÀ NỘI — A seminar was held in Hà Nội on Thursday to collect feedback on the draft decree on a national one-stop shop mechanism and specialised inspection of exports-imports. 
Co-organised by the United States Agency for International Development (USAID) and the finance ministry's General Department of Vietnam Customs, the seminar attracted over 100 delegates from ministries, agencies, local customs and businesses. 
Speaking at the event, deputy director general of Vietnam Customs Nguyễn Công Bình said administrative reform on exports-imports had been the top priority of the Government in recent years, adding that Decree No 19 on improving the business climate and national competitiveness stipulates a reduction in the rate of goods under specialised inspection during customs clearance to below 10 per cent from the current 25-27 per cent. 
Despite achievements in administrative reform, World Bank's Doing Business Index pointed out that Vietnamese enterprises still faced difficulties in abiding by regulations on specialised inspection of exports-imports, he said. 
Phạm Thanh Bình, advisory expert for USAID's GIG project, said regulations on specialised inspection of exports-imports are set in laws, decrees and circulars of ministries and agencies, leading to overlapping in management. 
Launched in November 2014, the national one-stop shop mechanism has so far connected with 11 out of 14 ministries and departments and 47 out of 284 administrative procedures on specialised inspection. However, many procedures on specialised inspection are yet to be conducted online. 
The draft decree will help simplify customs clearance procedures and establish an inter-sectoral mechanism to ensure effective coordination among units via the national one-stop shop. 
The Vietnamese Government is also working with USAID via the Governance for Inclusive Growth programme to facilitate sustainable and inclusive economic growth in the country. — VNS