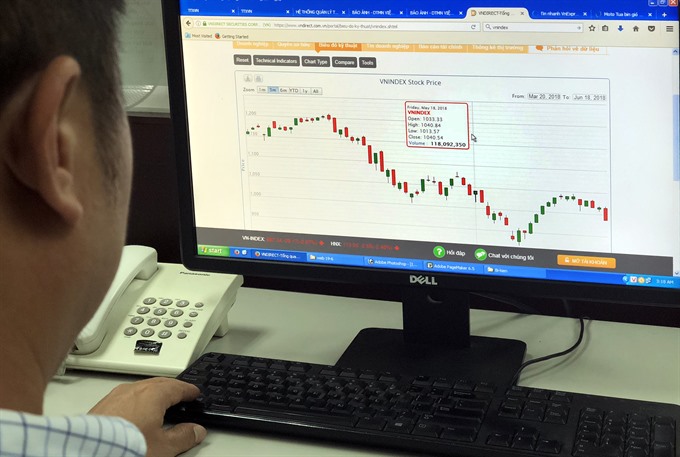 An investor monitors the security index in Hà Nội. — VNS Photo Thái Hà
Viet Nam News
HÀ NỘI — Shares declined on Monday as securities and banking lost momentum on investors selling pressure rising.
The benchmark VN Index on the HCM Stock Exchange dropped sharply 2.87 per cent to close at 987.34 points, breaking the 1000-point threshold. It had inched up 0.08 per cent on Friday.
The HNX Index on the Hà Nội Stock Exchange lost 2.46 per cent to end at 113.05 points, reversing from its gain of 0.86 per cent on Friday.
More than 222.8 million shares were traded on the two local exchanges, worth VNĐ5.3 trillion (US$234 million).
The market breadth was negative as declining stocks outnumbered gaining ones by 312 to 140 while 288 other stocks remained unchanged.
Massive sell-offs drowned 16 of the 20 sectors on the stock market. Key industries that saw share prices drop included banking-financial, energy, construction material and retail, data on vietstock.vn showed.
Large-cap stocks were hit strongly by profit-taking pressure. The large-cap VN30 Index fell 3.45 per cent to 970.35 points with 27 of the 30 largest stocks by market capitalisation suffering.
Bank stocks slumped with all nine listed banks losing value.
The three largest lenders – Vietcombank (VCB), Vietinbank (CTG), BIDV (BID) – slipped 4.2 per cent, 4.9 per cent and 5.9 per cent, respectively. Other banks on the Hà Nội bourse fell between 1.3-3.6 per cent each.
Among the worst-performing stocks in the energy sector were PetroVietnam Gas JSC (GAS), PetroVietnam Drilling & Well Services Corporation (PVD), PetroVietnam Technical Services Corporation (PVS) and Việt Nam National Petroleum Group (PLX).
Many large-caps in the real estate sector also face strong selling pressure, including Development Investment Construction JSC (DIG), Nam Long Investment Corporation (NLG), Vingroup Joint Stock Company (VIC) and Khang Điền House Trading and Investment JSC (KDH).
Another factor that dampened market sentiment was foreign investors continuing to net-sell local assets, posting VNĐ547.75 billion worth of net sell value on the HOSE, focusing on VIC (VNĐ531 billion), HPG (VNĐ47.1 billion) and HSG (VNĐ42.49 billion). Moreover they also net sold VNĐ41.68 billion on the HNX.
According to Bảo Việt Securities Company (BVSC), the bearish session on Monday pushed VN-Index to the support zone around 980.
"We forecast that the market will rebound in this zone, but this might not be a sustainable recovery," BVSC said in its daily report.
Meanwhile, BIDV Securities Company (BSC) said in its report that the market had not confirmed the return of cash flow, investors can disburse portfolios, avoid the use of margin. — VNS