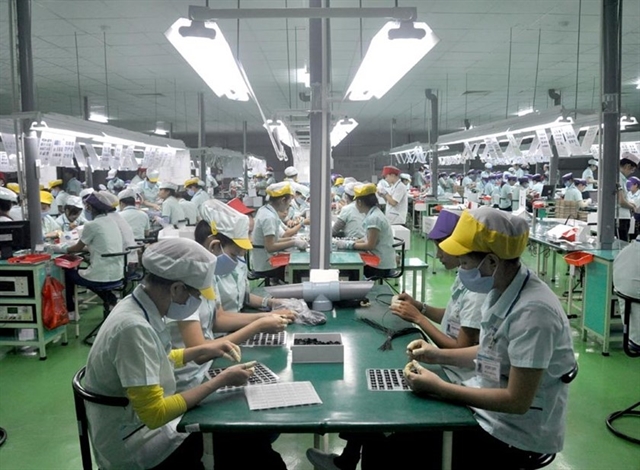 HÀ NỘI — Samsung Electronics' four subsidiaries in Việt Nam reported total revenue of US$31.8 billion in the first half of the year, an increase of about $500 million over the same period last year.
However, they together reported after-tax profit fell by 40 per cent year-on-year, from $3.2 billion to $1.9 billion, reported the news site cafef.vn.
Of the $1.3 billion decline in profits, Samsung Bắc Ninh plant contributed more than half.
Samsung Display Việt Nam, which made $380 million in profit in the first half of 2018, turned to a loss of $30 million.
The revenue of these two companies decreased by a total of $2.5 billion over the same period but has been offset by Samsung Thái Nguyên.
Currently, Samsung tends to concentrate production in factories in Thái Nguyên instead of Bắc Ninh. The turnover of $7.8 billion in the second quarter is also a record for Samsung Thái Nguyên.
Samsung Display is a company that makes phone screens for not only Samsung but also for Apple. Meanwhile, Samsung Bắc Ninh and Samsung Thái Nguyên are two of the key phone manufacturing factories of Samsung Electronics.
Samsung Ho Chi Minh City CE Complex (SEHC) specialises in manufacturing household electronic products.
The fact that both Samsung and Apple launched their flagship phones in the third quarter can help boost Samsung sales and profits globally as well as factories in Việt Nam in the last two quarters.
Recently, Samsung SDS, specialising in IT and logistics solutions, has spent more than VNĐ1 trillion ($42.92 million) to purchase 30 per cent of CMC Group's shares. Samsung SDS and CMC Group will work together to comprehensively cooperate in all areas of their strengths. — VNS