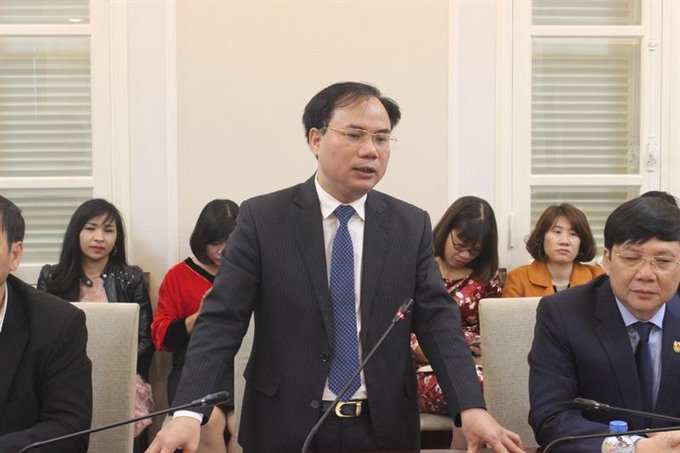 Deputy Minister of Construction Nguyễn Văn Sinh
Viet Nam News
With inflation, gold prices and stock markets remaining stable and further tightening of credit interest rates on the cards, the country's real estate market is unlikely to experience any major changes this year. Deputy Minister of Construction Nguyễn Văn Sinh spoke to Thời báo Kinh tế Việt Nam (VnEconomy) about the issue.
How did the Ministry of Construction assess the development of the local real estate market in the first six months of this year?
In the first half of this year, the domestic real estate market was stable and in abundant supply. Real demand for property increased steadily, showing signs of a sustainable and developed market in most regions nationwide.
During the first six months, about 8,650 successful transactions took place in Hà Nội, a year-on-year increase of 24 per cent, while HCM City had around 9,550 successful transactions, a year-on-year surge of 31.4 per cent, according to reports from investors and real estate trading floors.
Apartment prices fell 0.39 per cent in Hà Nội but increased 3.43 per cent in HCM City year-on-year. Meanwhile house prices rose about 3 per cent in Hà Nội and 10.42 per cent in HCM City over the same period last year.
By June 20, the country's total property inventory was valued at about VNĐ24.1 trillion (over US$1 billion), a drop of 81.27 per cent compared to its peak in the first quarter of 2013 and 5.16 per cent compared with December 2017.
The development of the real estate market has contributed to urban renewal in the direction of civilisation and modernity. It also ensured the safety of the banking system. This means that apt real estate market policies have been made and that confidence in the market is increasing.
Many people have said that real estate still poses a risk given the land fever that has taken hold over the past few months. What are your comments on the situation?
Some local media have been focusing on the strong development of the land market in some areas of Hà Đông (Hà Nội), Vĩnh Yên (Vĩnh Phúc Province), Bắc Ninh Province, Thái Nguyên Province, Đà Nẵng City, Nha Trang (Khánh Hòa Province) and Long Thành (Đồng Nai Province). The price of land has increased sharply in developing cities with synchronous infrastructure and development plans for new urban areas, industrial parks and resorts.
In 2017 and early 2018, special economic zones were announced for Vân Đồn in Quảng Ninh Province, Vân Phong in Khánh Hòa Province and Phú Quốc in Kiên Giang Province, pushing up land prices in a short space of time due to investor interest, while other buyers have also bought up land waiting for prices to increase.
The proposed SEZs have taken measures to prevent sudden increases in land prices, such as the temporary suspension of land use conversion from agricultural to residential land, restricting the separation of land plots, and monitoring the use of forest and agricultural land.
Thanks to these solutions, prices have stabilised.                              
These examples and tightening real estate credit have made many people fear that the property market will break in 2019. What do you think?
According to a report by the State Bank of Việt Nam, by the end of 2017 and early this year, outstanding loans for real estate businesses and construction firms with credit institutions had reached VNĐ529.58 trillion, up 9.21 per cent compared to 2016, accounting for 8.14 per cent of the country's outstanding loans. The bad debt ratio in the real estate sector was 4.58 per cent, higher than the bad debt ratio of the whole economy at 3 per cent, but still relatively stable.
According to experts, the State Bank has tightened short-term capital and switched to medium and long-term loans for the real estate sector. However, the real estate sector has high demand but interest rates for this sector are often higher than loans for production and business.
When they have the chance, commercial banks will need to focus more on lending to the real estate market. When the sector is heavily in debt, property prices rise, creating the risk of a bubble.
What should we do to ensure sustainable development in the local real estate market?
To ensure sustainable development and avoid a bubble, the banking sector should tighten credit and reduce loans for high-end real estate projects and for investors that have capital demand for multiple projects.
At the same time, the sector should loosen credit restriction increase the volume of loans for social and low-cost housing projects.
To ensure the safety of the credit system, it needs to control loans for the real estate sector, especially for speculators.
The State should adopt tax policies to combat real estate speculation, including amendments to the existing non-agricultural land tax law or the issuance of a law on asset tax. These laws would impose higher taxes on cases involving large lots and fast turnarounds, and allow the Government to adjust the real estate taxes to stabilise the market when needed.
The Ministry of Construction plans to put into operation information systems on the housing and real estate market to contribute to public transparency and improve the efficiency of state management.
This year, the ministry will submit to the Government and the Prime Minister plans to monitor developments in the real estate market and to propose solutions on controlling and promoting the sustainable development of the market.
If approved by the Prime Minister, I believe that these plans will contribute to controlling the real estate market, ensuring the market develops healthily and efficiently. — VNS