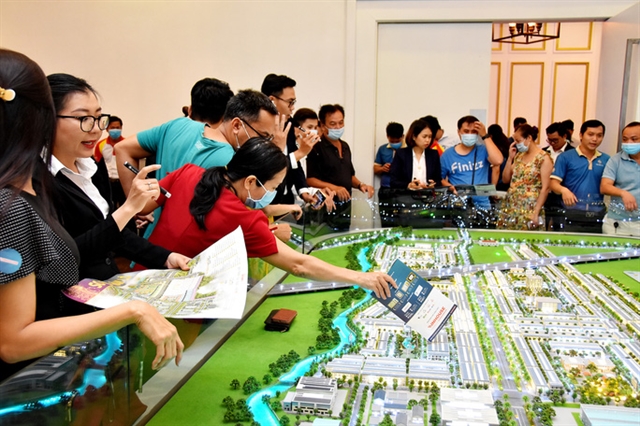 HCM CITY — Real estate businesses in HCM City are gingerly reopening, mostly consulting and carrying out transactions online due to the COVID-19 prevention and control regulations still in force.
Trần Trọng Tiến, general director of a real estate brokerage in Bình Thạnh District, said his company resumed operations at the beginning of October but is only allowed to have 30 per cent of employees in office.
"Our main projects are in Phú Quốc Island and some other localities, but … we cannot take visitors to show them the projects, and most consultations are online."
Phạm Lâm, chairman of real estate services firm DKRA Vietnam, said most businesses in the industry had resumed operations, but were effecting few transactions since customers were hesitant to buy when they could not personally see the products.
Most were opting to wait until they see them.
Nguyễn Hương, general director of Đại Phúc Land Real Estate Joint Stock Company, said the COVID-19 pandemic caused great difficulty for real estate businesses: all their previous plans had been binned and most faced cash flow pressures.
Banks cut lending to real estate business in the first half of this year, and this is likely to continue.
LienVietPostBank's financial statements show that loans outstanding to the real estate sector fell in the first 6 months of this year by 52 per cent to VNĐ1.67 trillion (US$72.6 million), or only 0.87 per cent of total loans.
At VPBank, the figure fell by 12 per cent to VNĐ32.4,42 trillion.
The chairman of the HCM City Real Estate Association, Lê Hoàng Châu, wants the central bank to instruct lenders to reduce loan interest rates by 2 percentage points, extend payment terms and roll over loans and not turn them into bad debts to enable the industry to recover. — VNS