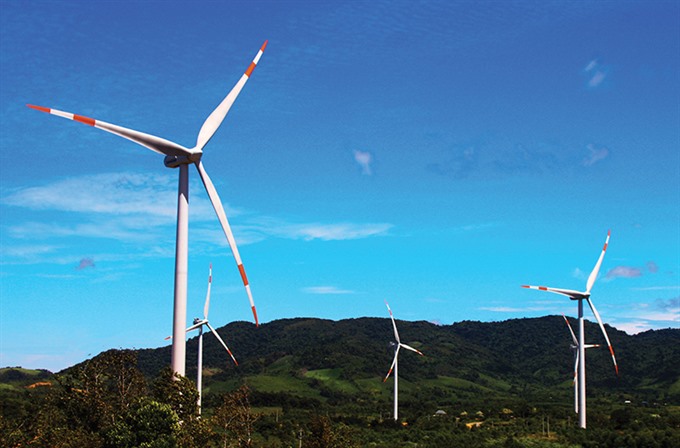 Wind turbines in the Hướng Linh Wind Power Plant 2 in Quảng Trị Province. —Photo baoquangtri.vn
Viet Nam News
QUẢNG TRỊ — The central province of Quảng Trị is getting another wind power plant, thanks to a total investment of US$68 million from a domestic company.
The province's People's Committee has approved an investment proposal by the Tân Hoàn Cầu Joint-Stock Company to build a wind power plant in the province's mountainous Đakrông District. It will be the fifth wind power plant built in the province.
The company has been allowed to install 12 turbines on an 8ha plot of land in Hướng Hiệp Commune. The total capacity of the plant will be 30MW, with an expected annual electricity production of 126 million kWh.
The plant will be named the Hướng Hiệp Wind Power Plant 1.
Granted a 50-year licence, construction on the plant starts in April next year and operations are expected to officially begin in November 2020.
Tân Hoàn Cầu has also invested in two other wind power plants in the province's Hướng Hóa Commune. Hướng Linh Wind Power Plant 1 and 2, were constructed thanks to US$1.3 billion in investments from the company.
Nguyễn Đức Tâm, director of the local Department of Planning and Investment, said the province targeted three areas across the province for wind power, including a 2,789ha area in Hướng Hóa District, a 2,882ha area in the Gio Linh and Vĩnh Linh districts, and another 1,036ha area in Cồn Cỏ Island.
The province has recently licensed the construction of a solar power plant in Gio Linh District, with a total investment of US$52million. Expected to officially begin operating by June next year, the plant occupies a 58ha lot and has an expected annual production of 67,690 MWh. — VNS