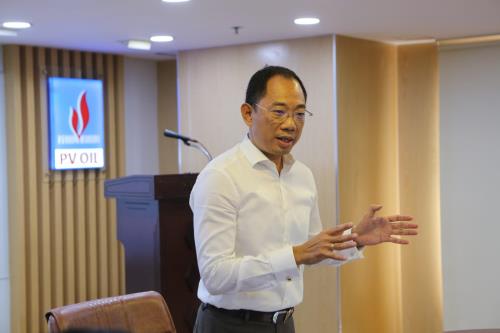 PetroVietnam Oil Corporation (PVOIL) has strengthened the quality control of petroleum in its storage, transport and distribution system to ensure the best interests of customers.
Cao Hoài Dương, PVOIL General Director speaks to Vietnam News Agency about this issue.
With nearly 600 petrol and oil retail stations in all provinces and cities and 23 subsidiaries, what solutions has PVOIL done to manage the quality of its petroleum products?
PVOIL has had a process of controlling petroleum quality at all stages including import, storage, processing, dispatching and transport to ensure quality according to current regulations.
PVOIL has only imported petroleum products from reliable partners such as Shell, Total, SK Korea and Singapore. We also checked all customs documents of the imports.
With domestic supply, PVOIL uses products from Dung Quất Oil Refinery Plant and Nghi Sơn Oil Refinery Plant. Besides checking certificates, PVOIL also performs quality testing before moving it to its storage facility.
During storage, quality control of petroleum tanks is carried out daily. In case the results do not meet the quality standards, PVOIL will immediately stop pumping gasoline from those tanks to the retail stations.
For blended gasoline products, input materials are checked for quality before blending. The additives for blending petrol and oil products must meet standards on safety, hygiene, human health and environment.
The blended petrol and oil products must meet Việt Nam's quality standards. PVOIL has not sold petroleum products without quality certification.
In the transport stage, PVOIL has implemented GPS for control of all trucks transporting petrol and oil products. Thanks to the strict quality management process, up to now, the PVOIL has not received any complaints from customers regarding the quality of petrol and oil products.
How has PVOIL implemented quality control at its 3,000 agents, and affiliated and franchised stations?
PVOIL control and take responsibility for the quality of petrol and oil products sold at agents that sell PVOIL's products exclusively.
However, it is difficult for affiliated and franchised stations because they may purchase from other sources.
PVOIL have economic contracts with them so the corporation cen terminate the contracts in case violations were found.
However, this solution is not efficient because if they do not buy from PVOIL, they can switch to buying petrol and oil products from other petroleum traders.
Therefore, we expect the State management agencies to strengthen inspection, post-inspection and strict sanctions against businesses that have violation relating to quality of product. In particular, it is necessary to have close cooperation between State management agencies and enterprises in controlling this issue.
How does PVOIL have a strategy to develop petrol stations in the future?
Petrol is an essential commodity. When buying this commodity, consumers must buy with confidence because they could not check quality and volume of the petrol they buy.
Therefore, PVOIL's important principle is protection of customers' interests.
To attract customers, we must have attractive petrol stations and professional services. Recently, it has had projects to improve the quality of customer service at its petrol stations.
With clean petrol stations and sales staff wearing uniforms with the PVOIL logo, customers can easily see PVOIL petrol stations to buy petrol products.
Currently, PVOIL has not had a lot of opportunities for developing petrol stations in big cities due to limited land, high land rent and a large number of available petrol stations.
Therefore, PVOIL will focus on developing petrol stations in other provinces and cities, new urban areas and industrial zones where there is still room for development.
With a lot of petroleum stores nationwide, it could ensure the transportation of petrol retail stations in rural areas to meet local demand and ensure competitive price.
Currently, PVOIL has nearly 600 stores on the domestic market, accounting for about 26 per cent of the domestic petrol retail system. The percentage is targeted to increase to 35 per cent in the future. – VNS