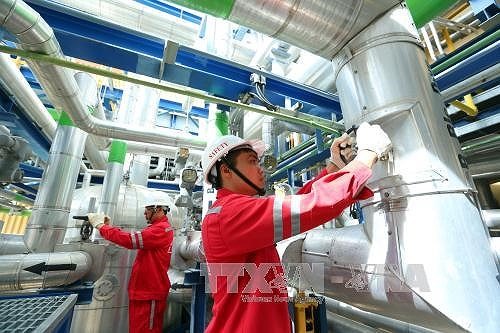 Staffs of Cà Mau 1 Power Plant under PVPOWER management operate equipment for power generation. — VNA/VNS Photo Huy Hùng
Viet Nam News
HÀ NỘI — PetroVietnam Power Corporation (PV Power) shares may be sold at an initial price of VNĐ14,400 (63 US cents) per share at its initial public offering (IPO). The Ministry of Industry and Trade (MoIT) has submitted to the Prime Minister Nguyễn Xuân Phúc the plan for privatisation of PV Power under the Việt Nam National Oil and Gas Group (PetroVietnam).
According to the Prime Minister's Decision No 168/2017, PetroVietnam will hold at least 51 per cent of charter capital at PV Power until 2019.
However, the corporation still has some loans from foreign credit institutions under the guarantee of the Finance Ministry for implementation of electricity projects. These include loans with deadline after 2019, such as the Vũng Áng 1 Thermo-power Plant.
Foreign lenders have directed PetroVietnam to continue to maintain its position as the borrower of the loan contracts until 2025 once power plants are transferred to PV Power.
It is the reason the ministry asked the PM to permit PetroVietnam to continue holding 51 per cent of charter capital at PV Power following privatisation. PetroVietnam will divest from PV Power to less than 50 per cent of charter capital after 2025.
The MoIT said the Ministry of Justice recommended PV Power's share price at VNĐ14,000 per share based on audited results, its advantages and current regulations.
Specifically, 28.8 per cent of the shares will be sold to strategic investors, 20 per cent will be publicly traded through the IPO and 0.118 per cent will be issued to employees.
The ministry said the sale of shares would not be attractive to strategic investors if they were sold multiple times. Unsold shares from the IPO and preferential shares for employees would be sold to strategic investors.
It added that the IPO is expected to take place in the fourth quarter this year.
PV Power is the second-largest electricity producer in Việt Nam, after Electricity of Việt Nam. PV Power manages plants with total capacity of 4,208MW. Last year, the company's plants generated 21 billion kWh of electricity output. — VNS