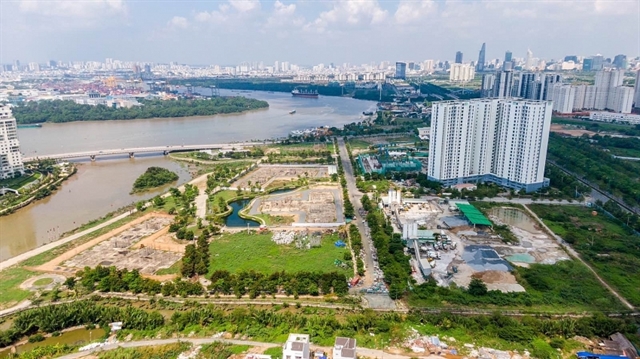 HCM CITY The HCM City real estate market is facing several problems including multiple agencies having overlapping functions and other administrative bottlenecks, high land-use fees and suspension of all build-transfer projects, according to the HCM City Real Estate Association (HoREA).
The real estate market in HCM City, and the country in general, faces many problems that need urgent solutions, especially with regard to mechanisms and policies related to investment and basic construction, to create a transparent, open and fair business investment environment and attract investment.
Nguyễn Thị Như Loan, general director of Quốc Cường Gia Lai Real Estate Company, said her company had 12 projects in the city that were stuck because of official agencies' overlapping responsibilities and complex procedures.
Too many inspections by authorities were also affecting functioning, she said.
The difficulties have led many developers such as Novaland, one of the biggest in the country, to look for opportunities in other provinces.
Last year it did not have a single project in the city. Instead, it invested in NovaWorld Phan Thiết project in Bình Thuận Province and NovaWorld Bình Châu project in Bà Rịa – Vũng Tàu Province.
According to experts, if the difficulties related to procedures, policies, and mechanisms are not resolved quickly, many other developers would follow in Novaland's footsteps and quit the city.
Lê Hòang Châu, chairman of HoREA, has submitted to the Party Central Committee's Economic Commission a proposal to create a more transparent, fair and competitive business environment, citing the remarkable decline in the number of housing projects in HCM City in recent years.
According to HoREA, between October 2015 and the end of 2018, 126 commercial housing projects were stuck since the lands they were allotted comprised a mixture of various purposes and uses. Another 158 projects being built on public lands were halted and are being reviewed for compliance.
In the last two years HoREA has submitted numerous petitions and proposals to the Government and local authorities to resolve these obstacles, help developers avoid bankruptcy and ensure there are no negative impacts on society.
Châu said city leaders would meet with HoREA and real estate developers next week to seek solutions for delayed projects.
"Based on these solutions, we can hope that the real estate market will stabilise at the end of this year." — VNS