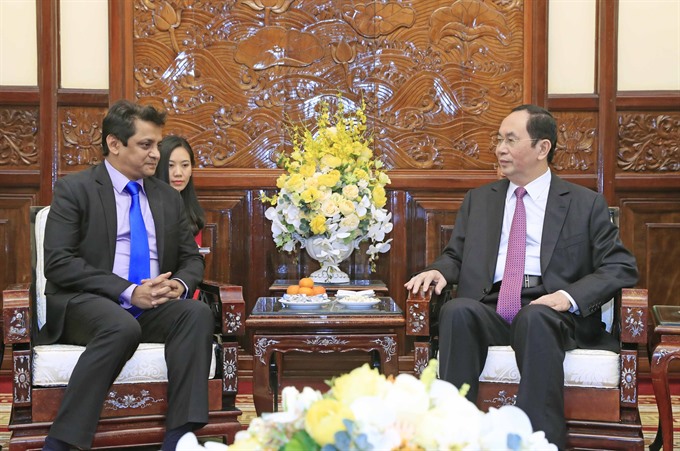 President Trần Đại Quang receives Indronil Sengupta, Chief Executive – Vietnam at Tata Sons on Tuesday in Hà Nội. — VNA/VNS Photo
Viet Nam News
HÀ NỘI — Việt Nam always treasures and encourages foreign investors, including those from India, to invest and do business in the country, President Trần Đại Quang told Indronil Sengupta, Chief Executive – Vietnam at Tata Sons. 
Speaking at a reception for Sengupta in Hà Nội on February 13, President Quang said the Government of Việt Nam is continuing with reform and improving business regulations to meet international standards and create favourable conditions for foreign investors. 
He said developing energy, particularly renewable energy, is a priority of Việt Nam, expressing his belief that when Long Phú 2 thermal power plant is completed, it will pave the way for Indian projects to enter Việt Nam. 
The President asked Tata Group to fast-track the project and put the thermal plant into operation on schedule. 
President Quang spoke highly of Tata's move to expand business operations to other fields in Việt Nam, including port development and coffee production and processing. 
He hoped that enterprises from Việt Nam and India will propose ideas to step up two-way trade and investment between the two countries at the upcoming Việt Nam – India Business Forum in a bid to lift bilateral trade to US $15 billion as soon as possible. 
Sengupta informed President Quang about the Tata Group's projects in Việt Nam, including a $70-million coffee processing facility in Bình Dương and solar power projects in four provinces with a combined capacity of 250MW.
He affirmed that Tata is working hard to complete these projects on schedule and wants to expand to other fields in Việt Nam. 
Found in 1869, Tata Group is one of India's largest conglomerates, which has been present in over 40 countries and territories and among India's biggest investors in Việt Nam. It is building the Long Phú 2 thermal power plant in the Mekong Delta province of Sóc Trăng. — VNS