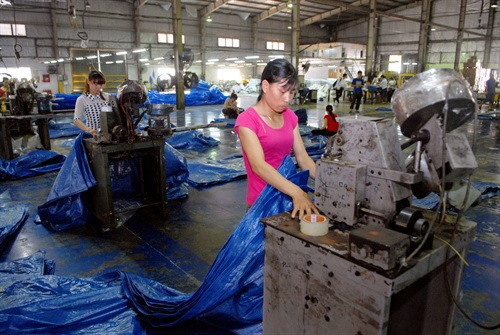 A plastic production line for export in the northern province of Phú Thọ. Exports of plastics are expected to grow by 12–15 per cent this year. — VNA/VNS Photo Danh Lam
Viet Nam News
HCM CITY — Exports of plastics are expected to grow by 12–15 per cent this year, according to the Việt Nam Plastics Association (VPA).
Hồ Đức Lam, chairman of the association, said the country's key export markets this year would be Japan and the US, which has high demand.
Other markets such as China, Laos, Cambodia and Myanmar are expected to become new export markets for plastics in the future.
Plastic bags made in Việt Nam are still subject to anti-dumping taxes in the US market, but the US imposition of anti-dumping duties has had almost no impact on exports of the sector, according to Lam.
Every year, the average US import turnover is more than US$50 billion for plastics and plastic products, accounting for 9.1 per cent of the world's total import of plastics, according to VPA.  
The largest plastic export market is Japan, with an average growth rate of 20–25 per cent per year. Việt Nam now ranks sixth in the top 10 countries exporting plastics to Japan, which is one of the most difficult markets with many strict regulations on the quality of goods. Vietnamese plastic exporters have been urged to improve quality, design and trade promotions to enter this market.
Lam recommended that Vietnamese plastic producers prepare long-term strategies and invest in market research to increase their penetration into the Japanese market.
In addition, the EU's demand for plastic products imported from Việt Nam is high, especially plastic pipes.
Việt Nam's plastic products are not subject to anti-dumping duties in the EU markets like other Asian countries (the average tax rate is from 8-30 per cent). Thus, Vietnamese producers are also urged to seek new export markets. 
Despite the high export prospects and strong development in recent years, the plastics industry is still known only as part of the plastic processing industry.
More than 80 per cent of raw materials are still imported from other countries.
Each year, the plastic industry needs an average of four million tonnes of raw materials, but only manages to produce about 900,000 tonnes, with the rest imported.
Experts have said that a shortage of raw materials will reduce the competitiveness of exporters.
Because of regulations on the origin of goods, it is difficult to take advantage of tax incentives in free trade agreements.
Exporters also need to focus on environmentally-friendly and safe products for sustainable growth.
Việt Nam's plastics industry earned $3 billion last year, posting a 17.3 per cent increase over 2016, according to VPA. — VNS