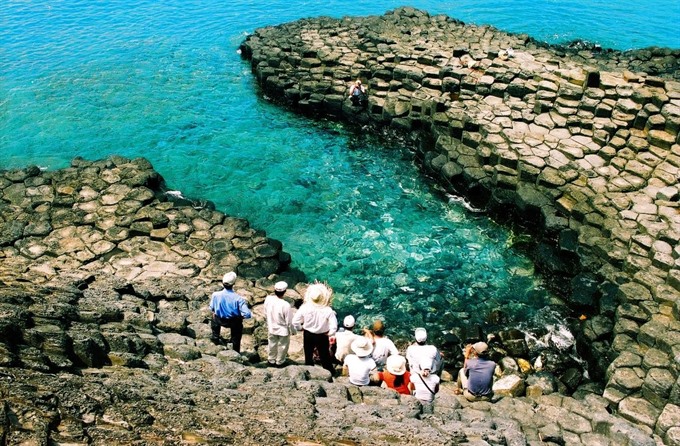 Ghềnh Đá Đĩa (The Cliff of Stone Plates), Phú Yên Province. – Photo tintucphuyen.com
Viet Nam News
HÀ NỘI — The central province of Phú Yên is determined to improve its business climate and enhance investment promotion to attract capable investors who can help exploit its untapped potential.
Nguyễn Chí Hiến, Standing Deputy Chairman of the provincial People's Committee, said during an online dialogue held on Friday by Đầu Tư (Investment) newspaper that the province's development was still much below its potential, while information about its advantages had not reached a large number of investors.
"We will strive to enhance investment promotion to make investors understand more about the investment opportunities here."
Phú Yên said that the province prioritised investment in infrastructure development, high-end tourism and renewable energy.
According to Huỳnh Lữ Tân, Director of the Department of Construction, with a number of tourist attractions such as Bãi Môn, Mũi Điện and XuânĐàiBay, Phú Yên has rich potential for investment in tourism property.
Tân said that the province would seek investors with experience and adequate financial capacity.
Phú Yên also encouraged investment in transport infrastructure, power supply, parks, waste treatment, water supply and drainage.
Tân said that any investments must be compliant with the province's socio-economic development planning to 2020 with a vision to 2030, approved by the Prime Minister early this year.
Nguyễn Thanh Tuấn, Deputy Director of the Department of Industry and Trade, said the province has significant potential for building solar and wind power projects.
To date, the People's Committee has permitted 17 investors to study the feasibility and implementation of 19 solar and wind power projects, eight of which were included in the country's power development planning.
According to Nguyễn Hào Hiệp, chairman of First Real, a property developer looking to invest in Phú Yên, the province is a fertile land for tourism investors in particular thanks to its nearly 200-kilometre coastline, beautiful scenery and good transport connectivity.
In addition, the provincial authorities also have favourable policies for investors.
Hiệp said that Phú Yên needs to be selective in attracting investment to ensure sustainable development.
Phú Yên attracted 284 investment projects during the 2011-17 period, including 19 foreign direct investments with total registered capital of US$6 billion. — VNS