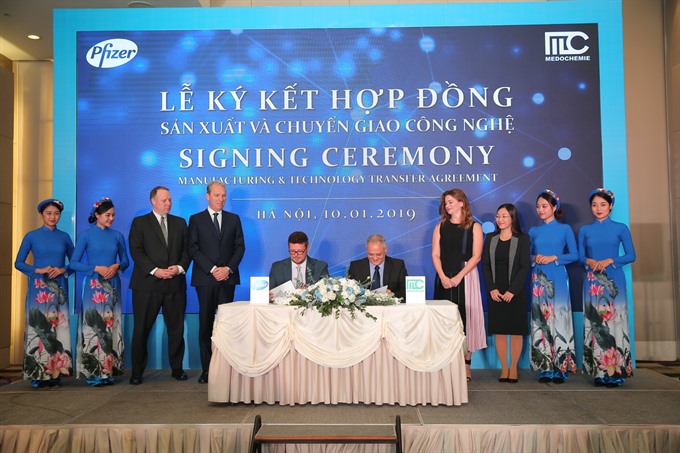 Pfizer Vietnam signs a technology transfer agreement with Medochemie. – VNS Photo
Viet Nam News
HCM City — Pharmaceutical company Pfizer announced on Thursday it has signed a deal with Medochemie to transfer technology to manufacture its innovative medicines in Việt Nam.
Pfizer said it would bring its global technologies and operations platforms of hard-to-make products such as sterile injectables to Việt Nam and help raise local manufacturing standards to that of international markets.
Under the agreement, Medochemie, which has a plant in Bình Dương Province, will make Pfizer's anti-infective, cardiovascular, and pain drugs. 
Commenting on the partnership, Bradley Allen Silcox, chief representative of Pfizer Thailand in Việt Nam, said: "We are grateful to the Ministry of Health of Việt Nam and the Government of Việt Nam for their vision to improve the capacity and capability of the pharmaceutical sector, and for creating an eco-sýtem that allows patients the quality of care and treatment. 
Daphne Pittas, director of Medochemie, said: "This partnership gives an impetus to Việt Nam's pharmaceutical industry capability for the manufacture of complex medicines such as oral dosages and injectable cephalosporin. 
"Medochemie strongly believes in and will continue to support the scientific and technological advancement of the Vietnamese pharmaceutical sector."
Việt Nam is a rapidly developing market with a population of 95 million as of 2017. Steady economic growth and an expansion of the middle income have increased demand for high-quality healthcare goods and services, especially medicines, the two companies said in press release. — VNS