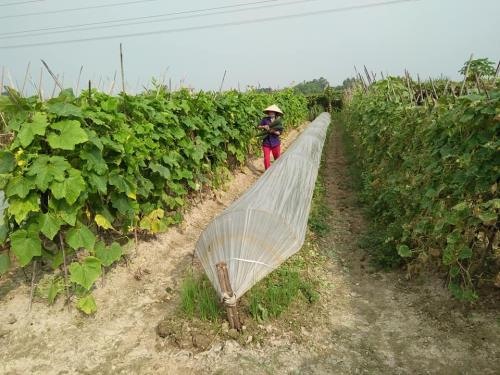 An organic vegetable farm in Hà Nội. Careful market research and clearly identified buyers are needed first if companies want to invest in organic produce. — VNA/VNS Photo Thành Trung
Viet Nam News
HCM CITY  –— Companies interested in organic agriculture should engage in market research and brand building, and not just simply chase trends without having first identified buyers, experts have said.
Nguyễn Thanh Thuỷ, director of Xanh Việt Nam Agriculture Co. Ltd., said that farmers in Bắc Giang Province, for example, refused to buy her company's organic fertiliser unless the firm could find traders who would buy their fruit.
She said the company could not find traders who were willing to buy at her requested price.   
Nguyễn Tấn Pháp, whose start-up involves growing organic vegetables in Quảng Nam Province, noted that the "clean" market has high potential, but the prices are higher than traditionally grown products.
In addition, since many customers do not completely trust organic products, trust building and brands are especially crucial.
Đỗ Hà Nam, former chairman of the Việt Nam Pepper Association, said that developing organic farm products requires careful market research and demands.
Firms should not just encourage farmers to adopt organic production methods without making sure that buyers exist. Otherwise, farmers may lose faith in firms, he said.
Nguyễn Văn Bộ of the Việt Nam Academy of Agriculture Science said that organic agricultural goods currently only account for a tiny part of Việt Nam's farm produce.
Many firms and households producing organic goods are small, without proper planning or market research.
Organic agriculture has strict requirements that farmers have to follow, and they need help with better infrastructure and markets, as organic farming is environmentally friendly and produces clean produce, he added.
Nam said that several foreign firms wanted to co-operate with Vietnamese pepper firms, which could help sell Vietnamese organic pepper to global markets.
Although Việt Nam's organic products such as seafood, honey, coconut, pepper and fruit are considered to have good value, organic farming requires understanding of market demands first, Bộ said.  — VNS