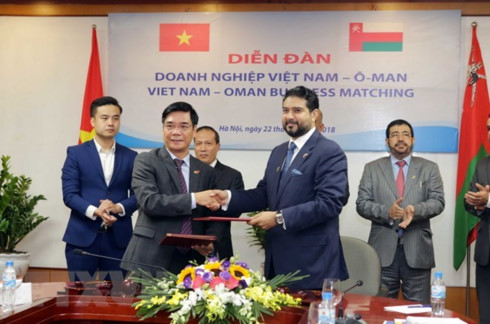 HÀ NỘI — Representatives of Vietnamese and Omani enterprises met in Hà Nội on Monday to discuss ways to promote business and trade ties between the two countries.
Co-hosted by the Việt Nam Chamber of Commerce and Industry (VCCI) and the Omani Embassy in Việt Nam, the event was part of a series of activities held from April 21-25 as representatives of the Oman Chamber of Commerce and Industry (OCCI) and 12 Omani companies are paying a working visit to Việt Nam.
The Omani firms are seeking local business partners in a range of fields, including construction, trade, interior decoration, aquaculture, organic fertiliser, construction materials, foodstuff, tourism, oil and gas services and electrical equipment.
VCCI Vice Chairman Đoàn Duy Khương said that over recent years, diplomatic, economic and commercial relations between the two nations have been improved. With a population of almost 100 million, Việt Nam has advantages in exporting garment-textiles, footwear, mobile phones, iron and steel, wood and agricultural products.
The Middle Eastern country has imported up to 60 per cent of its food demand and the figure is forecast to increase, making Oman a potential market for Vietnamese agricultural products, he said.
Khương cited statistics from the General Department of Việt Nam Customs showing two-way trade remained modest, reaching only US$120.8 million in 2018, up 3.4 per cent from the previous year. Of the figure, Việt Nam exported products worth $50.8 million to Oman, a year-on-year rise of 19.3 per cent.
Hamad bin Said al Rubkhi, member of the OCCI Board of Directors and Head of the OCCI Branch in the Governorate of Al Dakhiliyah, said that apart from such potential sectors as oil and gas, tourism, fishing and aquaculture, Oman also has strengths in fine handicrafts and hotel services.
Oman's many seaports make it a gateway for products to enter Arabian markets, so it is necessary to further boost investment and trade ties between the nation and Việt Nam, he said.  VNS