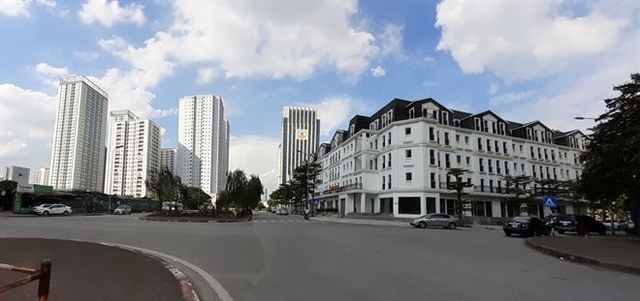 HÀ NỘI – The east of Hà Nội has led the new supply of landed property, covering 80 per cent of the total new launch in the first half of this year, according to property consultancy CBRE Vietnam.
At the conference announcing a report on the Hà Nội property market in the first half of this year held in Hà Nội on July 9, CBRE Vietnam's representative said the first six months of the year witnessed a total of 3,241 new units, most of which were launched in the first quarter.
The six-month figure was nearly 1.5 times the total supply last year, suggesting a positive outlook for the market in the future, it said.
The improvement of urban infrastructure and inner-city traffic continued to boost the expansion of supply in emerging locations, such as Gia Lâm, Long Biên and Hà Đông districts, which benefited from developed infrastructure and well-known developers.
Better infrastructure has not only facilitated the launch of new projects in emerging locations but also energised delayed projects in the Hà Nội market.
CBRE Vietnam reported a dynamic rise in the supply of landed property in the outskirts of the city, compared to that of inner districts.
The recent establishment of many well-developed large-scale projects has further intensified competition within the supply of landed property in the city.
According to the CBRE, by year-end, high-quality products, consistent management and reputable developers will remain key factors affecting both end-user buyers and investors.
This year is also set to welcome new supply in the landed residential market with many subsequent phases of previously-launched projects expected to come on board.
Sales were impressive during the first six months despite the massive stock of new launches. About 2,980 new villas and shop houses were sold in January-June, 14 per cent higher than the total number of 2018.
The secondary prices for villas in the first half averaged US$4,075 per sq.m, including value-added tax (VAT) and construction costs.
Besides that, the CBRE said in the first six months, Hà Nội's condominium market recorded a large new supply, reaching 17,700 offered units.
Especially, the mid-end and affordable segments dominated the market with 98 per cent of total supply.
The market has new supply but its liquidity has also seen good performance. About 40 per cent of the new supply was sold in the second quarter, bringing total sold units to 6,900, up 17 per cent year-on-year.
In terms of selling prices, the primary market average price reached $1,337 per sq.m, a year on year increase of 4 per cent. Of which, the high-end segment has had an average price of $2,345 per sq.m, the highest in the last five years.
CBRE forecasts that there will be 33,000 new apartments for sale this whole year, equal to the period from 2016-18. – VNS