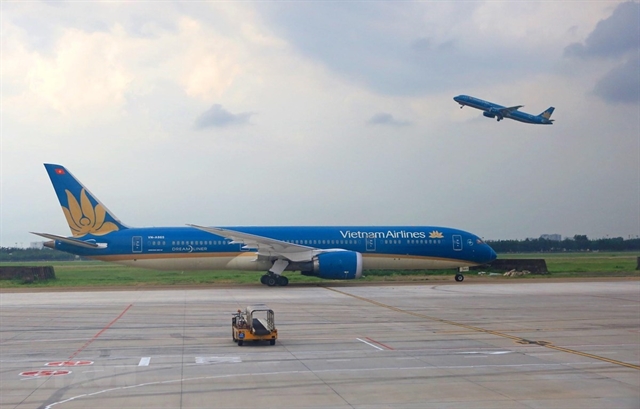 HÀ NỘI — Budget carrier Vietjet Air announced yesterday that it will resume its regular flights to Thailand, Japan, South Korea and Taiwan.
The move is part of efforts to restore its international flights in a safe fashion, meet passengers' demand, and contribute to boosting growth of the economy and the tourism sector.
Accordingly, flights will be on routes between Việt Nam-Thailand every Friday. Flights from Hà Nội to Seoul (Republic of Korea) are scheduled to depart on April 15.
Flights from Hà Nội to Tokyo will take off on April 6, 7, 10, 11, 12, 13, 14, 19, 20, 23, 26, 29 and 30.
Flights from Hà Nội to Taiwan will depart on April 11.
Earlier, national flag carrier Vietnam Airlines also announced it would resume international routes between Hà Nội – Narita (Tokyo, Japan), Hà Nội – Incheon (Seoul, South Korea), Hà Nội – Sydney and HCM City – Sydney (Australia), from April 1. In addition, the national airline also planned to launch package flights from Japan, South Korea, and Taiwan (China) after being licensed from the authorities.
Accordingly, flights from Hà Nội to Seoul will depart on Thursdays, while those to Tokyo will take off on April 3, 8, 11, 16, 23, 27, and 29. In May and June, Việt Nam will operate two flights per week on this route, on Thursdays and Saturdays.
It will operate Hà Nội-Sydney flights on Saturdays and HCM City-Sydney flights on Thursdays and Sundays.
Under the Ministry of Health's regulations, all flights from Việt Nam currently only serve Vietnamese nationals studying or visiting relatives in foreign countries and foreigners returning home from Việt Nam.
Passengers are requested to study related regulations from diplomatic missions to prepare the necessary documents and procedures.
Vietnam Airlines also plans to conduct charter flights from Japan, the Republic of Korea (RoK), and Taiwan (China), depending on licences from relevant authorities.
The national flag carrier is opening bookings for flights to the RoK, Japan, and Australia at ticket agents and on www.vietnamairlines.com.  VNS