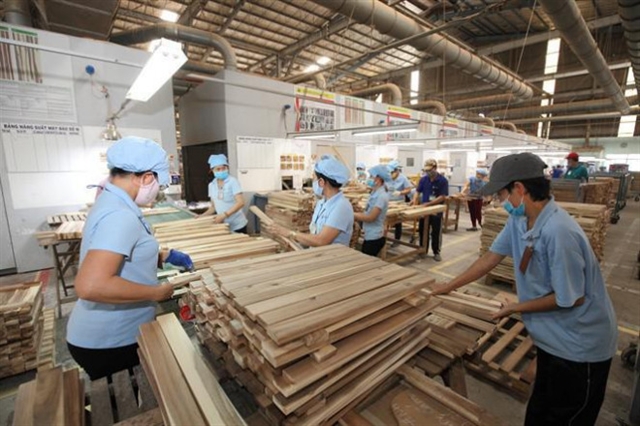 HÀ NỘI — Bilateral trade turnover of Việt Nam and China in wood products has reached about US$2 billion each year.
To maintain and develop Việt Nam's export wood industry to this market, businesses need to reduce the risk of commercial fraud in wood products imported from China.
A study by the Vifores and Forest Trends based on data from the General Department of Customs shows that China is one of Việt Nam's three important export markets for wood and wood products after the US and Japan.
Việt Nam's export turnover of wood and wood products to the US increased sharply from about $1 billion in 2018 to over $1.2 billion in 2019, then decreased slightly last year.
Among export items, woodchips are the most important. Export turnover of this item accounts for 70-80 per cent of the total annual export turnover, followed by peeled boards and wood products.
The proportion of woodchip exports in the first nine months this year declined compared to that of last year, but the decrease was not significant.
Notably, the export of peeled boards, an input material for the production of boards, to China has grown strongly in recent times.
The export proportion of plywood products is very strong, from 2 per cent of the total export turnover in 2018 to seven per cent last year and reaching 12 per cent in the first nine months of this year.
However, there is currently direct competition between Chinese businesses and Vietnamese plywood purchasers in the Vietnamese market.
The network of Chinese traders now covers plywood factories in northern provinces such as Bắc Giang, Thái Nguyên, and Phú Thọ to purchase raw materials.
This causes some difficulties in terms of raw materials for Vietnamese purchasers.
Two-way trade in wood products between Việt Nam and China is very large, with the current surplus tilting towards Việt Nam. However, the surplus is gradually shrinking.
"It is worth mentioning that, on the export side, Việt Nam's export products are mainly wood materials. Vietnamese enterprises are competing with Chinese enterprises at home. It is necessary to have new mechanisms and policies to improve the competitiveness of Vietnamese enterprises," Dr. Tô Xuân Phúc, an expert from Forest Trends, said.
Đỗ Xuân Lập, chairman of Vifores, said the average annual bilateral trade turnover of Việt Nam and China in wood products reached about $2 billion, with the trade balance tilting towards Việt Nam.
In 2018, the turnover of Chinese wood products exported to Việt Nam was equivalent to less than 50 per cent of the turnover of Việt Nam's wood products exported to China.
This number grew to 70 per cent last year. If the growth momentum and structure of export-import products between the two countries are maintained as they were now, the trade balance between Việt Nam and China will reach an equilibrium in the next two to three years, said Lập.
In the direction of Việt Nam's imports from China, key products include peeled and veneered boards, wood products and plywood.
These imported veneers and peeled boards are mainly made from wood species such as birch originating from Russia, a number of European countries, and the United States; as well as okoume wood originating from Africa and bintangor wood.
These items imported into Việt Nam are used as a surface layer for boards, then put into plywood production for export to other markets such as South Korea, India, or processed to create products such as cabinets, tables and chairs for export to the US and EU markets and to manufacture products for the domestic market.
However, these products contain legal risks for input materials that Forest Trends and Vifores have repeatedly recommended to importers.
Affirming that importing wood materials was a legitimate need of genuine businesses, Lập also said that reducing the risk of commercial fraud in wood products imported from China played an important role in maintaining and developing Việt Nam's export wood industry.
Vietnamese authorities are actively co-ordinating with timber associations and related parties in identifying risks and providing sanctions for violating companies.
These measures and sanctions should be prioritised and strengthened in order to limit risks in the flow of imported timber, he said.
This requires close attention from management and law enforcement agencies, especially border control agencies.
Close linkages and co-operation among these agencies, timber associations and other stakeholders allows the location risks in imported products, thereby deciding appropriate disciplinary measures. — VNS