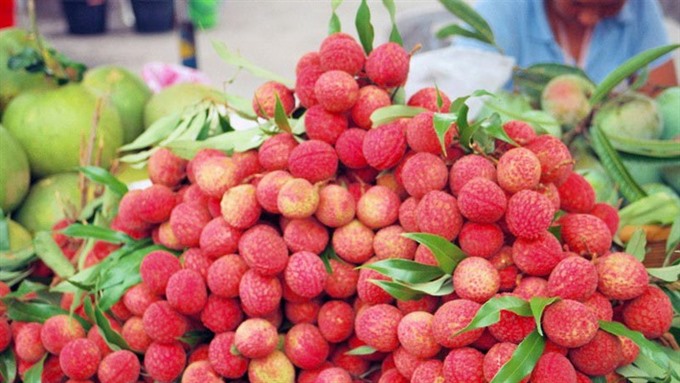 Việt Nam gained strong growth in lychee exports this year. Photo vneconomy.vn
Viet Nam News
HÀ NỘI – Việt Nam gained strong growth in lychee exports and the number of enterprises exporting lychee this year against the figures of last year, according to the General Department of Customs.
In this crop, Vietnamese enterprises exported more than 92,000 tonnes of lychee, earning US$40.8 million. Those figures showed a year-on-year increase of 172 per cent in volume and 126 per cent in value.
Of which, the export of fresh lychee reached over 75,000 tonnes worth $30.9 million, accounting for 81.5 per cent of export volume, while dried lychee reached more than 17,000 tonnes earning more than $9.9 million.
The department said that in the lychee crop this year, Vietnamese lychee was shipped to 27 countries and territories around the world, an increase of eight countries compared to 2017.
Those markets included China, United Arab Emirates, Australia, Saudi Arabia, Canada, Laos, Britain, Bahrain, Malaysia, Turkey, Japan, Netherlands, Thailand, Belgium, US, Norway, Germany, France, Russia, Switzerland, Oman, Sweden, Ireland, Singapore and Cambodia, reported vneconomy.vn.
The exports to China, the largest export market of Vietnamese lychee, reached more than 83,500 tonnes in volume and $33.9 million in value, a year-on-year surge of 151 per cent in volume and 91 per cent in value. The lychee exports to this market accounted for 90.7 per cent of Việt Nam's total lychee exports in this year.
The General Department of Customs also said that the number of enterprises exporting lychee this year has doubled against 2017. This year, 97 enterprises exported lychee, while this figure was 44 firms in 2017.
This year, Vietnamese lychee was registered with export declarations at border gates in Lạng Sơn, Lào Cai and Hà Giang provinces. Lychee was mainly exported by road while a small amount of lychee was exported by air.  – VNS