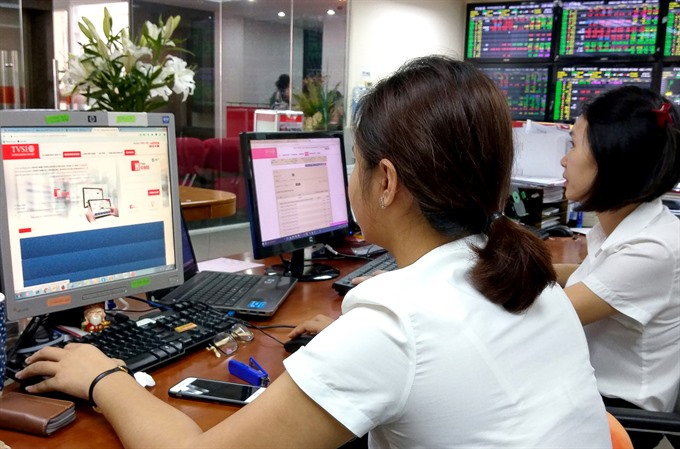 Sàn chứng khoán Tân Việt tại HN. VNS Photo Đoàn Tùng
Viet Nam News
HÀ NỘI — Selling pressure increased at the end of Wednesday's trading session while purchasing demand was not enough to save indices from falling.
Việt Nam's benchmark VN-Index ended Wednesday on a negative note, dragged down by large-cap stocks. It edged down 0.22 per cent to close at 993.96 points.
The benchmark index inched up 0.01 per cent to close at 996.19 points on Tuesday.
The HNX Index on the Hà Nội Stock Exchange lost 0.47 per cent to end at 113.76 points.
The northern market index lost 0.07 per cent to end at 114.30 points on Tuesday.
Nearly 238 million shares were traded on the two local exchanges, worth VNĐ5 trillion (US $212 million).
The blue chip VN30 Index dropped 0.11 per cent to stand at 966.27 points at the end of afternoon trading.
On a sector basis, 15 of the 20 saw share prices drop, including real estate, securities, technology, banking, petroleum, food and beverages and seafood processing.
The 15 industry indices were down between 0.11 and 2.15 per cent, data on vietstock.vn showed.
A number of pillar stocks were badly hit, including Việt Nam Joint Stock Bank for Investment and Development (BID), Masan Group (MSN), food producer Kido Group (KDC), Military Bank (MBB) and Nova Land Investment Group Corporation (NVL).
Oil and gas stocks fell across the board, led by PetroVietnam Drilling & Well Services Corporation (PVD) (4.2 per cent), Drilling Mud Joint Stock Corporation (PVC) (2.4 per cent) and PetroVietnam Technical Services Corporation (PVS) (2.6 per cent).
The drop-off was decelerated thanks to support from large caps such as Mobile World Group (MWG), FLC Faros Construction Joint Stock Company (ROS), brewery Sabeco (SAB), real estate developers Vinhomes (VHM) and Vingroup (VCG) and budget carrier Vietjet (VJC).
According to Bảo Việt Securities Company (BVSC), if the market rebounds in the next session it could revert to the uptrend established in July.
According to BIDV Securities Company (BSC), the market is in a corrective phase as investors continue to wait for supportive information from business results in the next two weeks as well as the local and global markets.
 The UP-Index on the Unlisted Public Company Market (UPCoM) gained 0.23 per cent to finish at 53.82 points. — VNS