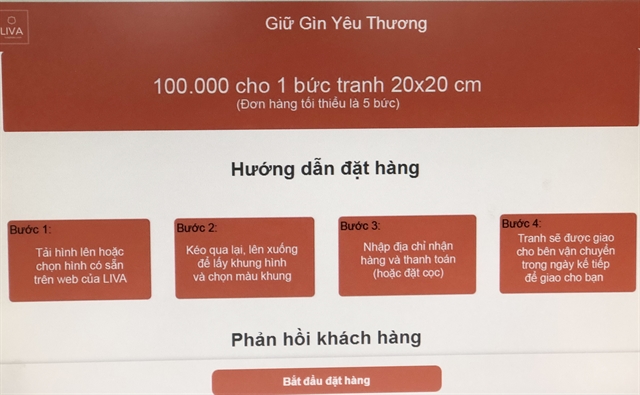 HCM CITY — A group of young people in HCM City have launched the website livaphoto.com where photographs can be ordered online and delivered directly to customers. 
This is the first website in Việt Nam to offer such a service.
Dương Thị Kim Thảo, LIVA's representative, said the idea for the startup came from members of the LIVA group who created livaphoto.com and applied technologies to offer customers a selection of their favourite photos of their home, offices, restaurants or coffee shops.
"You can take a photo with your phone, then simply click to send the photo, and then adjust the photo as you want. The pictures will be delivered to your home. The photo does not need a hanger on a wall. You can stick it anywhere in the house you want."
Though the start-up began in early October, it has received positive feedback from customers, she said.
LIVA is not only targeting individual customers but also businesses, restaurants, cafes and business offices, she added.
To order the picture, customers log on the portal, upload their favourite photos or select them from LIVA's photo library, make photo adjustments, and then submit their selections.
The price for each 20×20 cm photo is VNĐ100,000 (US$4.3). Customers receive free delivery if they order five pictures. — VNS