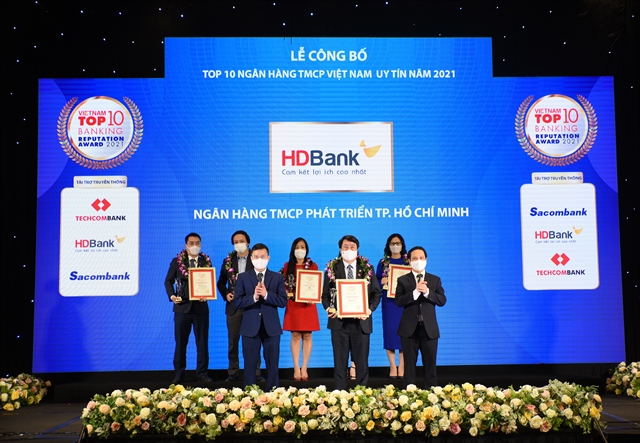 HCM CITY — HDBank has once again been honoured as one of the most prestigious private institutions in the country by Vietnam Report, affirming its position as among the most dynamic banks in terms of growth.
The award was presented at the Vietnam Top 50 Public Companies (VIX50) in 2021 ceremony organised by Vietnam Report on October 21 in Hà Nội.
Techcombank, ACB, VPBank, and TPBank also won awards.
The awards were based on three criteria: financial capacity as shown in the latest year's financial statements; communications prestige assessed by media coding method; and surveys of relevant stakeholders done in June 2021.
HDBank did well in all three criteria.
Its positive business results in the first six months of 2021 was a bright spot.
Overcoming the adverse impacts of the COVID-19 outbreak, HDBank achieved 82 per cent of its full-year profit target in the first nine months.
Its total assets as of September 30 were worth over VNĐ346 trillion (US$15.2 billion), up 26.7 per cent from a year earlier.
Return on equity (ROE) was 24 per cent compared to 21.1 per cent in September 2020. The capital adequacy ratio (CAR) and liquidity were maintained at high levels, with CAR (according to Basel II) at 13 per cent, far above the minimum requirement of 8 per cent.
The bank's total operating income in the first three quarters topped VNĐ12.1 trillion ($532.3 million), 23.6 per cent up from the same period last year. Operating costs continued to be optimised with the cost to income ratio reduced to 39 per cent from 43.8 per cent a year earlier.
Its standalone and consolidated non-performing loan ratios were below 1 per cent and 1.4 per cent, both lower than in a year earlier.
Services continued to be its bright spot in the first nine months, as net income rose 88.6 per cent year-on-year.
Notably, net income from services for the parent bank more than tripled from the same period last year thanks to growth in the bancassurance and payments services segments.
This helped HDBank develop in a more comprehensive way, no longer depending on credit while minimising risks and improving the revenue structure in a sustainable manner.
In the first nine months of the year, HDBank actively undertook digital transformation to promptly meet the transaction needs of customers in the context of the pandemic.
To help prop up the economy, since the pandemic outbreak HDBank has earmarked over VNĐ42 trillion to support individual and corporate customers.
Besides preferential interest rates, the bank has also offered support in terms of waiver and reduction of various fees.
In August, it won the Best Bank and Best Digital Transformation Bank in Vietnam in 2021 awards at the Global Brand Award. — VNS