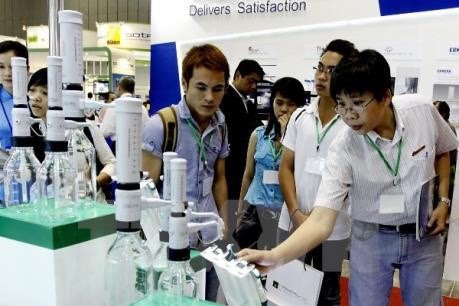 Techmart Online also helps investors meet with researchers. — Vietnam Plus.
Viet Nam News
HCM City – The HCM City Department of Science and Technology has been trying to commercialise research outcomes by linking demand and supply, investing to bring technologies to the market and helping register intellectual property rights.
It has created and regularly upgraded the Techmart Online business to business (B2B) portal to offer technology transfer, consultancy and assistance with seeking partners.
Universities, research institutes and companies that have technology can join Techmart Online as sellers and organisations and individuals seeking technology as buyers.
"The system enables the two sides to meet directly and discuss every related issue," Bùi Thanh Bằng, director of the department's Science and Technology Information and Statistics Centre, was quoted as saying by Sài Gòn Giải Phóng (Liberated Sài Gòn) newspaper.
Besides supporting selling and buying information, the portal also provides renowned experts for consultancy to safeguard their rights.
"We have over 100 experts from different fields, including legal, technology examination and intellectual property," Bằng said.
Techmart Online also helps investors meet with researchers.
The portal was upgraded recently into Techport (techport.vn) and has a target of having 5,000 technology products by the end of this year. 
"As of November 2018 Techport has 4,649 kinds of equipment and technologies, 657 suppliers and 124 technology ideas and projects looking for investors," Bằng said.
Techport is set to promote weekly seminars to introduce livestream technology.
"We have broadcast live 25 seminars, attracting 14,400 viewers, and Techport was also introduced to 15 consulates," Bằng added.
HCM City is now promoting the science and technology market to enable companies to adopt new technologies and increase their labour productivity.
The science and technology market development programme, approved by the city People's Committee, targets increasing the value of science and technology products and services by 15 per cent annually in the next five years and 20 per cent in the case of key technologies. — VNS