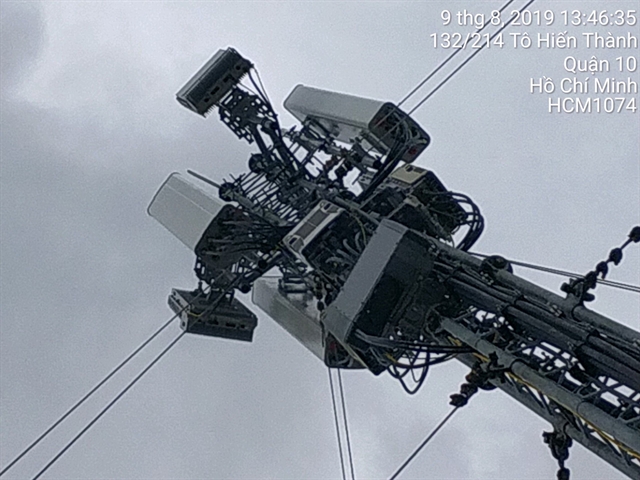 HCM CITY – All of HCM City's 24 districts will have Internet of Things (IoT) broadcasting stations installed this month, making the city the first place in Việt Nam to be fully covered with an IoT network.
IoT is a system of interrelated computing devices and machines with the ability to transfer data over a network without requiring human-to-human or human-to-computer interaction.
Connected devices, smart devices and others are embedded with electronic components, software, and sensors with computer network connection capability, making it possible for them to collect and transmit data.
According to domestic newspapers, Military telecom giant Viettel Group is set to announce the completion of IoT and 5G infrastructure helping HCM City become a smart city.
Around 1,000 Narrow Band – Internet of Things (NB-IoT) broadcasting stations have been activated, covering the whole city, the media reported.
NB-IoT technology is capable of disconnecting a device when it is inactive. Thus, the contact time of the terminal is extended to five years without the need for changing the battery.
Viettel is also accelerating the process of developing a platform using NB-IoT technology-related services for its customers.
It will perform services like smart parking, air quality monitoring, location tracking, and metering devices.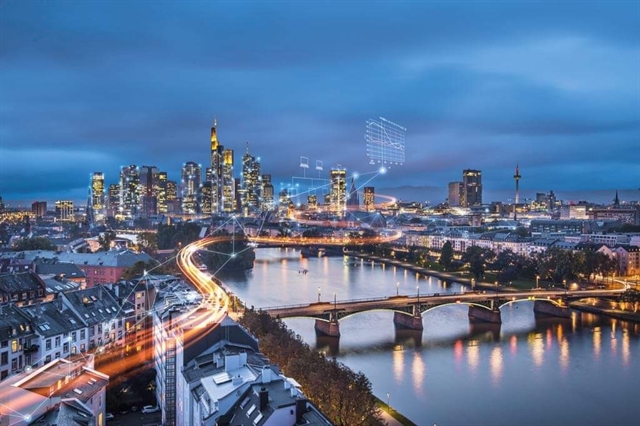 IoT boom
With IoT technology developing strongly, other provinces and cities in the country will also have full NB-IoT coverage soon.
Viettel was quoted on Thời Báo Kinh Tế Việt Nam (Vietnam Economic Times) as saying that after HCM City it would cover Hà Nội. Nearly 500 NB-IoT broadcasting stations have been installed and activated in Cầu Giấy District and some suburban districts.
Tào Đức Thắng, deputy general director of Viettel, said the company planned to take IoT technology to every province and city in the country.
"Successful deployment of NB-IoT is how we realise Viettel's mission, demonstrating our commitment and effort to create a smarter society."
Viettel is not the only company in the race to offer IoT technology to customers, with several service studying and developing infrastructure for it.
VNPT is investing in IoT by developing a Smart Connected Platform, and hopes to serve customers in smart transportation, smart tourism and smart agriculture.
Talking about IoT trends, telecom experts say with industry 4.0, the concept of customers has been expanded from just people to things.
The number of customers would thus run into the billions and the demand for connecting is huge, they said.
There are various estimates, with one saying that by 2020, globally, around 20 billion devices will be fitted with sensors and controllers via NB-IoT technology, accounting for 74 per cent of all devices.
By 2025 about 40 billion smart devices will be used in the world with a total of around 100 billion connections in sectors like transportation, manufacturing, healthcare, agriculture, and finance. — VNS
Viettel to trial 5G, offers people in HCM City hands-on experience
HCM CITY – Viettel Group has broadcast its first end-to-end 5G network in HCM City, and is offering the public a chance to experience 5G services for the first time on Friday and Saturday this week.
In a press release on Thursday, the military-owned telecom giant said it had set up 5G base stations in Ward 12 in the city's District 10. 
The trial is meant to be a comprehensive evaluation of the band, coverage and application of 5G before commercialisation in 2020.
Nokia supplies end-to-end solutions, the release says.
According to Nokia, being first to 5G will allow it and Viettel to play a crucial role in enabling industry 4.0 applications that will boost the economy.
Tào Đức Thắng, deputy general director of Viettel's industry – telecommunications group, said: "The official broadcast of 5G in HCM City is an important milestone in Viettel's strategy to make Việt Nam one of the first countries in the world to commercialise 5G services. With 5G, Việt Nam will go along with the world." 
The network will offer a range of real-time 5G end-user experiences such as VR gaming and 8K resolution streaming, and enable Nokia's fixed wireless access at the Viettel Complex on Cách Mạng Tháng 8 Street in District 10. — VNS