HCM CITY — In order to ensure food supply and stable prices, the HCM City Department of Industry and Trade has set up 3,001 price-stabilisation points in supermarkets, convenience stores and 388 mobile sales points in city districts and Thủ Đức City.
The department has also worked with suppliers to organise mobile price-stabilisation sales points to help the poor and disadvantaged, as well as people living in quarantined and locked-down areas.
City authorities have also demanded that supermarkets and convenience stores handle the selling of goods at higher prices. The move came as local media reported that speculators were taking advantage of the pandemic to buy goods in bulk and resell them at sky-high prices.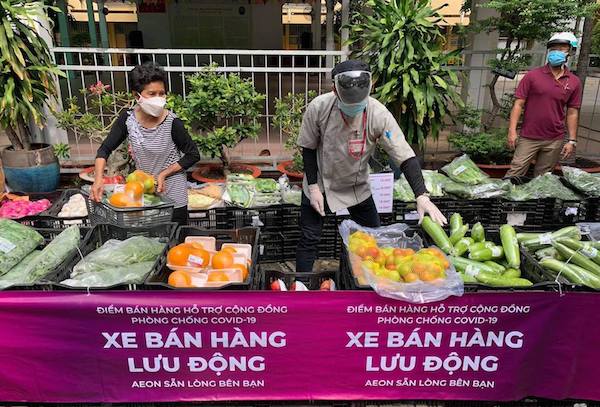 Customers said they had been queuing for a long time to buy food such as vegetables, meat and fish and other essential supplies at supermarkets and convenience stores. Much of the food was being sold at higher prices.
In addition, the department is taking many measures to quickly reopen traditional markets. This is urgent because the city's three largest wholesale markets Thủ Đức, Hóc Môn and Bình Điền and hundreds of supermarkets and convenience stores are temporarily closed for epidemic prevention and control, leading to temporary food shortages.
Only 63 out of 234 traditional markets are still operating in HCM City due to the outbreak.
The department is considering issuing grocery cards and numbered tickets to limit the number of shoppers inside traditional markets. The action aims to create a safe environment for market traders and shoppers, ensuring that supply of essential goods remains smooth amid social distancing within the markets.
The cards come with QR codes to quickly identify each shopper in future shopping trips. Numbered tickets are handed to shoppers at the markets' entry, and are used to manage and limit the number of people inside at any given time.
The city will also pilot a plan in which only two to 10 small traders of fruit and vegetables (depending on the size of the market's operation) will sell at traditional markets or will take turns if many small businesses want to reopen at the same time.
Express ships start transporting goods to HCM City from Mekong Delta
Five express ships began transporting essential goods from Mekong Delta provinces to HCM City on Monday to ensure a sufficient supply of goods, alleviating pressure on the city's supermarkets and businesses amid social distancing regulations.
The five ships, which operate under GreenlinesDP Technology Co. Ltd., can each transport around 20 tonnes of goods such as rice, meat, vegetables, eggs and healthcare equipment.
The ships will travel from Mekong Delta provinces such as Long An, Tiền Giang and Bến Tre to HCM City and back. The express ships were originally meant to transport passengers, but chairs have been taken out so that goods can be transported.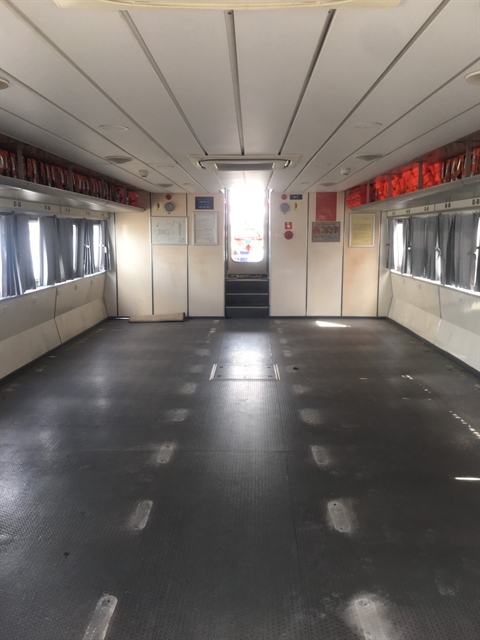 Staff on the ships have tested negative for COVID-19 and have been vaccinated. The ships have also been disinfected.
Trần Song Hải, general director of Greenlines, said that each ship can make two return trips every day, and more ships can be registered if needed. 
Appropriate transportation fees will be worked out with businesses or organisations transporting goods to ensure stable prices.
The ships will be subject to only a few necessary procedures in order to expedite the transport of essential goods.
To speed up goods transport, HCM City's Department of Transportation is issuing identification papers for road vehicles transporting essential goods and goods for production, and to experts and workers travelling from southern provinces to or through HCM City.
Tens of thousands of vehicles have already received these papers and are given priority when travelling through inspection stations.
The Directorate for Roads of Việt Nam was instructed by the Ministry of Transportation to consider applying this priority system for the 63 provinces and cities in the country.
Many traditional markets have been closed due to the COVID-19 pandemic, so locals have been congregating at supermarkets and stores for their shopping, which are struggling to satisfy demand.
The problem has been compounded by the increase in COVID-19 related procedures which have slowed down the transport of goods across provinces and cities.
HCM City has been carrying out many initiatives to combat the problem, such as setting up mobile selling outlets, or having more businesses buy and supply vegetables to locals. It is also working on partially reopening traditional markets.
A transshipment station at Thủ Đức Wholesale market has been opened to increase the supply of agricultural produce to the city, with another one at Hóc Môn Wholesale market slated to open soon.
Tây Ninh Province's Department of Industry and Trade opened a transshipment area on July 18 at the border between the province's Trảng Bàng Town and HCM City's Củ Chi District.
Farm produce and other goods from Tây Ninh will be disinfected at the area, along with vehicles, and then traders and businesses will transport the goods to wholesale markets in HCM City.
The initiative was agreed upon by the respective departments of Industry and Trade in HCM City and Tây Ninh. 
HCM City is the COVID epicentre of the country with more than 33,000 cases since the fourth outbreak began in late April. Social distancing officially began on May 31, with more strict preventive measures applied more than a week ago under the government's Directive 16.  — VNS