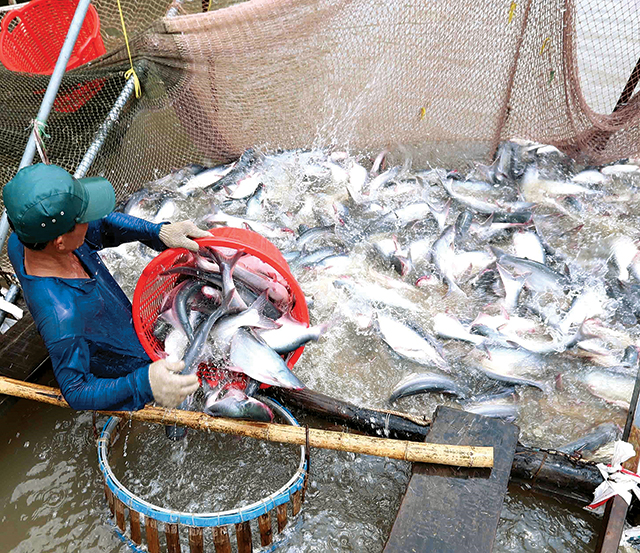 HẬU GIANG – The southern province of Hậu Giang will apply information technology (IT) to its agricultural and aquatic products.
Nguyễn Vũ Trường, Deputy Director of Hậu Giang Department of Industry and Trade, made the statement at the launch event of a project on management and traceability of agricultural and aquatic products of the province held on Wednesday.
This project will create a supply chain of agricultural and fishery products meeting food safety standards.
"Hậu Giang has not implemented traceability for agricultural products," Trường told Vietnam News Agency.
"So from November 2019, the provincial Department of Industry and Trade will deploy traceability for key agricultural products of the province, of which firstly is Thác Lác fish.
"Others include Cầu Đúc pineapple, Năm Roi Phú Hữu pomelo, Long Trị tangerine, seedless lemon and Ngã Bảy orange", said Trường.
In the first two years, businesses will be supported 50 per cent on the cost buying stamps on the product. Businesses, facility owners, cooperatives and individuals can volunteer to take part in the project with approval from the trade department.
Depending on the characteristics of each product, businesses and individuals could register one of three identification forms to trace origin of the product, including QR Code (Quick Response code), RFID chip (Radio Frequency Identification) and NFC chip (Near –Field Communications).
QR Code are the preferred method for the province as a suitable identification form in traceability for all kinds of key agriculture and fishery production, Vietnam News Agency reported.
At the launch event, Vu Sủi, Director of the Thạnh Thắng Pineapple Cooperative in Vị Thanh City, Hậu Giang Province said his cooperative is studying the project with the hope that the cooperative's pineapple products will attract more customers in the future.
The project on management and traceability of agricultural and fishery products in Hậu Giang Province is implemented from now to 2025 to improve efficiency in the State's management for the provincial agricultural and fishery products. — VNS