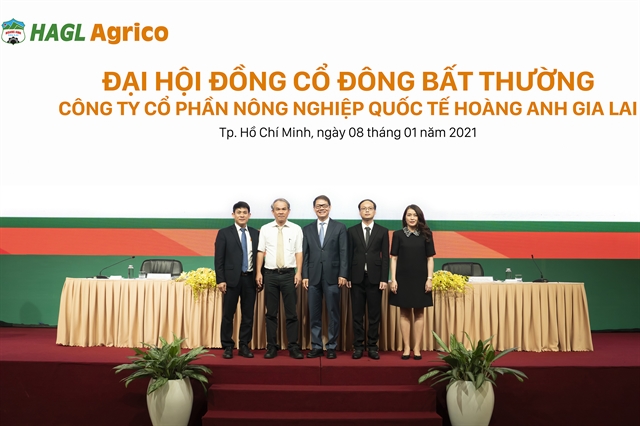 HCM CITY — At an extraordinary general meeting in HCM City last week shareholders of Hoàng Anh Gia Lai Agriculture International JSC (HAGL Agrico) approved an increase in the company's capital by VNĐ7.414 trillion (US$323.06 million) by issuing 741.4 million shares to Trường Hải Agriculture Company (Thagrico), a subsidiary of automaker THACO.
The meeting also approved business plans for 2021 – 23 and elected the board of directors and the supervisory board for the 2020 – 25 term, with Trần Bá ​​Dương, the THACO chairman, named chairman of HAGL Agrico.
Speaking at the meeting, Trần Bảo Sơn, the company's general director, said since it was established in 2010 HAGL Agrico had focused on growing rubber and oil palm on a total of ​​85,000 hectares in Gia Lai and Đắk Lắk provinces and Laos and Cambodia.
"However, ever, due to the sharp fall in rubber prices, our company fell into a serious crisis, faced many difficulties, lost liquidity, was unable to repay loan principal or interest, and had total debts of VNĐ18.414 trillion ($800.6 million) as of August 3, 2018.
"In that context, we have invited THACO to be a strategic investor to carry out financial restructuring to pay off debts and convert a large area of ​​oil palm and rubber trees into fruit trees."
Over the past two years THACO has worked with HAGL to resolve the financial difficulties so that HAGL Agrico could pay off debts that have fallen due and develop fruit cultivation.
As of November 30 last year HAGL Agrico had total liabilities of VNĐ16.078 trillion and its accumulated losses as of September 30 was VNĐ2.663 trillion.
"It can be said that HAGL Agrico has escaped from the verge of bankruptcy but still faces great difficulty in paying the above debts. At the same time [we] continue to need [working] capital to take care of the fruit orchards and invest in infrastructures such as irrigation, electricity, transportation, warehouses, cold storage, and internal logistics.
"Therefore, HAGL Agrico continues to restructure."
He added that the board of directors of HAGL Agrico decided to sell four subsidiaries (An Đông Mia Company and Hoàng Anh Quang Minh Company that own 17,305ha in Cambodia and Hoang Anh Đắk Lắk and Highland Dairy that own 3,439ha in Việt Nam) to Thagrico for VNĐ9.095 trillion ($394.9 million).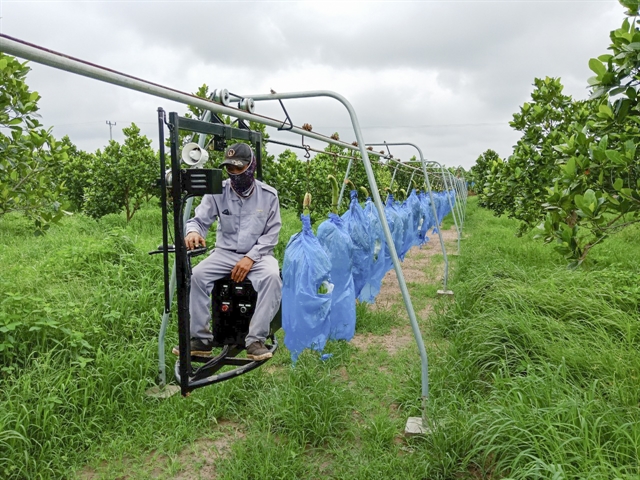 Under the 2021-23 investment strategy for ​​HAGL Agrico' s remaining lands of 35,757ha in Laos and northern Cambodia tabled at the meeting, the company will focus on cultivating fruit orchards (banana, mango and pineapple) and breeding cows.
As of the end of last year the company had 13,200ha under banana, mango and other fruits.
It plans to have another 9,700ha under fruits by 2023 (5,200ha under banana, 2,500ha under mango and 2,000ha under pineapple).
By the end of 2023, it will have 21,800ha under fruits and 8,434ha under rubber.
As for livestock breeding, it will carry out beef cow farming based on the semi-grazing and concentrated fattening models with a total herd of 110,000 head by 2023.
The company has also carried out studies to come up with a large-scale agriculture – forestry and livestock development strategy in Laos and plans to establish an industrial park specialising in the processing of agricultural and forestry products in southern Laos.
To accomplish its targets, this year HAGL Agrico will focus on creating a master zoning plan for large-scale farming and husbandry areas. It will ensure topography and soil are suitable for each kind of fruit to facilitate mechanisation and modern management and synchronise technical infrastructure to meet the needs of irrigation, garden care, harvest, transportation, and preservation at farms.
It will plant 1,000ha of banana in Attapeu, Laos, and 1,000ha of mango in Rattarakiri, Cambodia, at a cost of VNĐ500 billion, and focus on tending to existing orchards (5,360ha of banana, 4,000ha of mango) to improve quality and yields.
It is also considering switching from coconut, tangerine, avocado, and dragon fruit to other strategic fruits on more than 1,000ha of land.
It will invest an estimated investment of VNĐ450 billion in barns and pastures for breeding 8,000 cows in phase 1 and spend another VNĐ950 billion in agricultural machinery and equipment, infrastructure, fruit packaging plants, offices, accommodation for workers, kindergartens, medical centres, and others.
The estimated total investment in 2021 will be VNĐ1.9 trillion, while fruit output is expected to reach 154,000 tonnes and latex production will top 11,000 tonnes.
The company's estimated revenue in 2021 is VNĐ2.109 trillion (VNĐ1.766 trillion from fruits and VNĐ343 billion from rubber latex).
The company focuses on expanding both exports and domestic consumption of fruits, providing clean agricultural products of consistent quality and quantity and gradually closing its value chain to affirm its position in the market.
"With the above development strategy and financial situation of HAGL Agrico, we are sure that in the coming time, the business results of HAGL Agrico will be more efficient and develop sustainably,"  Sơn said.— VNS